Old Testament: Genesis 32:22-30 (Pentecost 19: Series C)
The true masterpiece of the Bible's narrative is that we are blessed not in the way we want but in the way God gives freely on account of Christ alone.
The blessing you were not looking for is the one that saved you.
This account of Jacob struggling with a man (verse 25) who is God (verse 31) is the culmination of Jacob's life of wrestling people's goods away from them for himself. Jacob has stolen everything he could from his older brother Esau (chapters 25 and 27). Jacob is now on his way back to his homeland, where Esau is, as a recently released fugitive from his uncle Laban whom he has fleeced for the last time (chapter 31). In between these two episodes, Jacob even tries to haggle God for a better deal (chapter 28:20-22). He is at a crossroads with nowhere else to turn. God intervenes in Jacob's life at the most critical moment. To put it plainly, this "grabber" (play on his name) has run out of things to "grab" and now he must "wrestle" (in Hebrew a play on his name Jacob יַעֲקֹ֖ב (ya-a-qob)/wrestle יֵּאָבֵ֥ק (ye-a-beq)) with his core identity in a mysterious way with a messenger of God (Hosea 12:4). This enigmatic struggle leaves him with a new name, that is to say, a new core identity. He will be known as Israel now, the one who "struggled with God," and succeeded by being submitted by God. This is not the person we have known previously in Genesis. Jacob would never back down and never surrender. He would push on and never give up. Jacob is the kind of man who would say, "Fool me once with this sister and I will show you by working for the other as well" (29:28). He would also be the man who would dress up like a caricature in order to put on the best show just to get the blessing which was to be given to his older brother (chapter 27).
But now, after Laban had hunted him down and with a pending fight with Esau ahead, Jacob has run out of options. It was his deeds which have landed him in this mess. So, at the end of his road we see him fighting for his life, fighting for what he thinks is another blessing. He is adamant he will not stop fighting "...unless you bless me" (32:26). This key loss for Jacob is really the clue to disclosing the preachable part of the text. Jacob asks for a blessing, but it was not the blessing he thought he wanted at all. Jacob knew what earthly blessing were. He enjoyed them so much that he could send much of it ahead as a present to Esau and still have enough to live on. But now the blessing Jacob is given is one he had not yet known. The blessing which God gave him was to learn to walk with a limp. The blessing was to learn to live with the constant and painful reminder that through pain he would learn to walk and trust in God in submission to His will.
This is a great text to bring out the teaching of the distinction between the "theology of glory" and "the theology of the cross." All of Jacob's life he wanted glory no matter what it cost. Even the conditional bargain he tried to strike up with God at Bethel (28:20-22) was proof Jacob was a theologian of glory. Now, in the last chapters of his life he would learn the theology of the cross: To find God in the pain of a life lived in trust to God who would save and provide for him. Jacob fought with everyone, including God, and he lost. There is no other way for him to go. Through faith he would now live a life submitted by God alone and live this life with the blessing of a limp. After this loss he can now see that salvation from his pursuers and persecutors comes not from his own effort or scheming. Instead, it is God alone who is his deliverer. The God/man in mercy does not destroy him but instead wrestles with him, graciously giving him a new identity and new life with this limp from God.
The God/man in mercy does not destroy him but instead wrestles with him, graciously giving him a new identity and new life with this limp from God.
The readiest gospel in this text is how Jacob's true opponent is the pre-incarnate Christ who is only known in mystery. This prophetic pre-presence of Christ will become clearer as human history limps along striving to see the blessing which would eventually be born in Bethlehem. Here God and man will be made manifest in the promised Christ. Think of how Mary would have to wrestle with this mystery in her womb as she too submits to God's will for her, or how Joseph would wrestle with this mysterious patronage and yet submit to God's plan of salvation. Also, consider how the disciples, Pharisees, Romans, and crowds would wrestle with Jesus' words and deeds. Then contemplate how we all have to wrestle with the pain of the cross as the blessing of salvation.
Yet, the empty tomb is the beginning of a new life for us which is cruciform and still transformed as much as Jacob becoming Israel on that side of the Jabbok River in Genesis 32. Jesus' resurrection is the only way to see God rightly. Jacob wrestled a mysterious anthropomorphism, but Jesus' resurrected body is real and revealed forever free from mystery. God was clear! Salvation is in no one else but Christ alone because he alone is "the image of the invisible God" (Colossians 1:15). Under the dark blue of the night sky Jacob was wrestling with something unseen. That mystery Jacob wrestled with is only revealed later in Christ. Like an artist, God hides Christ in our text so Jacob might be turned, and we too might be turned from seeking glory to living under the cross.
There is an artistic phenomenon known as "pentimento." The word in Italian simply means "repent." This is when an artist hides a previous work under a new creation. The first time I saw this was in a homiletics class with master homiletician Dr. David Schmitt. He showed us this famous painting from Picasso.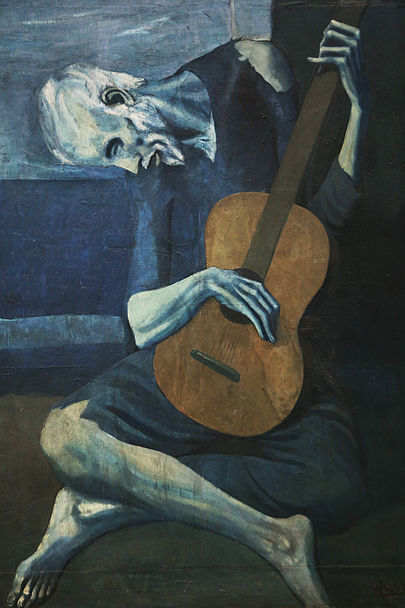 Here you see the guitarist bent and sad but beautiful like jazz. If you were to get closer you would see something else just below the surface. Something the artist is hiding. Something that he repented of and covered over with a new scene.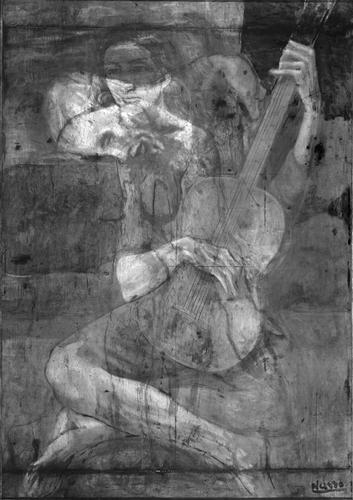 This woman's life is hidden in the life of the guitarist, much in the same way our life is hidden with Christ in God (Colossians 3:3). What we were is now covered over by the sufferings and death of Christ who has risen again for you.
Jacob could not make out who he was dealing with, but he learned the blessing (through pain) to trust in God alone for salvation. This is the beauty of the theology of the cross. Too often, we seek after glory as well. God in his mercy, though, has covered over us with the sufferings and death of Christ. Our life is hidden in the mystery of the cross. The artful grace of God then makes us come alive again with Jesus in His resurrection. The true masterpiece of the Bible's narrative is that we are blessed not in the way we want, but in the way God gives freely on account of Christ alone.
------
Additional Resources:
Craft of Preaching-Check out our previous articles on Genesis 32:22-30
Concordia Theology- Various helps from Concordia Seminary in St. Louis, MO to assist you in preaching Genesis 32:22-30.
Text Week-A treasury of resources from various traditions to help you preach Genesis 32:22-30.
Lectionary Podcast- Rev. Jeffrey Pulse of Concordia Theological Seminary in Ft. Wayne, IN walks us through Genesis 32:22-30.
Support 1517 in 2024 – Make a Year-End Gift Now
As we approach the end of the year, we are relying on your year-end support to continue our work in 2024. Your tax-deductible gift will ensure that we are able to keep declaring and defending the good news of Jesus in the next calendar year.