Tuesday, December 27, 2022
Today on the show, Dan tells the story of a man he spent three years researching, Johann Arndt.
It is the 27th of December 2022. Welcome to the Christian History Almanac brought to you by 1517 at 1517.org. I'm Dan van Voorhis.
Ok- here it is—the show dedicated to Johann Arndt. You might not know the name- you may have heard me reference him once or twice on this show as the man on whom I wrote my doctoral dissertation in the early 2000s. There were a few years wherein everything I read was somehow connected to the study of this man, his letters, and his fraught reputation in the church. And before I tell you his story, let me confess something. Arndt threw me for a loop. I had just left a Lutheran college, and I was studying a Lutheran who didn't fit the mold of the Lutheranism I knew. I treated real people like theology with skin on and with memberships in theological clubs whereby they would adhere to the party line on everything. Arndt was complicated- he still is. But I'm getting ahead of myself.
Johann Arndt was born on this the 27th of December in 1555. That was the same year Lutheranism was made legal in the Holy Roman Empire- he died in 1621 just as the Thirty Years War broke out, and questions of theology and statecraft were being raised again. So he lives right in this (almost) lull. It's the period in which the Reformation is going to have its 2nd Generation moment. Luther's dead- what next? Would it follow his ideas? Would it follow his general ideas but be fleshed out for a new generation with new theologians? For many Lutherans, the answer came in the collection of a number of confessional documents that would comprise the Book of Concord- it was compiled and formally adopted in 1580. Johann Arndt would, his whole life, swear theological fealty to these documents, even repeatedly making a note of his adherence to the unaltered Augsburg Confession.
He would study in Wittenberg in 1577 and take the side of Melanchthon, however, which would make him unpopular with some. So, he left for Strasbourg and then Basel, where he would study with generally broadminded Lutherans trying to find common ground with the Reformed. Of note, he also studied the natural sciences and had a lifelong interest in what might be called proto-pharmaceuticals at best and alchemy at worst. Very few of his personal letters don't have cures for ailments (and vocabulary, which was super hard to translate).
He would become a pastor in Badeborn, but his refusal to simplify his church service in the style of the Reformed found him soon to be an exile.
At his next stop, in Quedlinburg, he would befriend a young Johann Gerhard- a similarly committed Lutheran with a decidedly devotional bent. In 1605 he began publishing and expanding on his magnum opus True Christianity which would expand to 4 books by 1610. The book would be popular- perhaps the most popular, in terms of reach, in Lutheranism in the 17th century.
He argued that a personal approach, what some would call a mystical appreciation of the work of Christ and his indwelling in the believer, is wholly in line with confessional Lutheranism, and it was not uncommon for Luther to assert the same. In his native Saxony, where he would live out most of his life, he was harassed by some Lutherans, but his book would be printed and reprinted, and translated into dozens of languages. Decades after his death, the founder of Pietism, Phillip Jakob Spener, wrote an introduction to a prayerbook of Arndt's that would later be expanded into his landmark Pia Desideria (or pious desires)- in this case, Arndt might be a grandfather of pietism but otherwise not connected to that movement which has a sociological as well as theological aspect.
Arndt was a parish pastor and later Superintendent (that means bishop) who seems to have run afoul of a few loud critics but besides being run out of one church by the Reformed (not an uncommon thing in those days) should be remembered for his work of very popular and practical Lutheran piety- True Christianity. Outside of his love of pharmaceuticals and cures, much of his personal life is lost to us- nevertheless, he highlights some of the tensions in the 2nd generation of Reformers in the lead-up to the 30 Years War. Johann Arndt was born on this the 27th of December in 1555 and died in 1621 at the age of 65
The last word for today comes from the daily lectionary- from 1 John 5:
5 Everyone who believes that Jesus is the Christ is born of God, and everyone who loves the father loves his child as well. 2 This is how we know that we love the children of God: by loving God and carrying out his commands. 3 In fact, this is love for God: to keep his commands. And his commands are not burdensome, 4 for everyone born of God overcomes the world. This is the victory that has overcome the world, even our faith. 5 Who is it that overcomes the world? Only the one who believes that Jesus is the Son of God.
This has been the Christian History Almanac for the 27th of December 2022, brought to you by 1517 at 1517.org.
The show is produced by a man who, on this third day of Christmas, assures you there is no such thing as a French hen. He is Christopher Gillespie.
The show is written and read by a man who does note that "hen" can denote a female bird of many types and a female lobster. Do with that what you will. I'm Dan van Voorhis.
You can catch us here every day- and remember that the rumors of grace, forgiveness, and the redemption of all things are true…. Everything is going to be ok.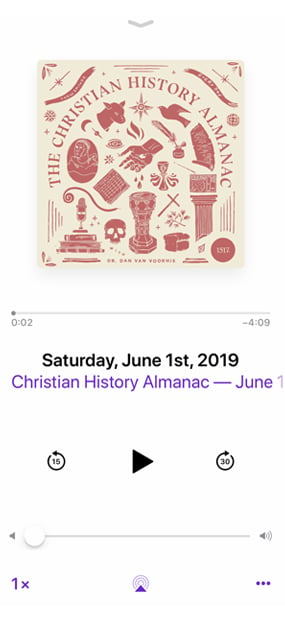 Subscribe to the Christian History Almanac

Subscribe (it's free!) in your favorite podcast app.
Apple Podcast