Tuesday, December 6, 2022
Today on the show, we remember Dave Brubeck and his unlikely fusion of Jazz and music for the church.
It is the 6th of December 2022. Welcome to the Christian History Almanac brought to you by 1517 at 1517.org; I'm Dan van Voorhis.
If you didn't expect to hear about Dave Brubeck on the Christian History Almanac, I would understand. After all, if you know the man, you know he was one of the preeminent names in 20th-century jazz, especially West Coast jazz, for which his "Time Out" is a classic of the genre.
But what you might not know is that the man who was born on this, the 6th of December in 1920, disbanded his quartet in 1967 to explore his own faith and this would lead to him writing a number of works from Oratorios to Masses. So, let's tell the story of Dave Brubeck on this, the 102nd anniversary of his birth on this day.
He was born in 1920 in Concord, California. His father was a rancher, and his mother was a pianist. She had dreams of being a concert pianist but ended up teaching her three sons. Except for Dave, the youngest had a secret: he only pretended to read the music- he found he could remember the tunes and fake it.
He would play in the Bay Area in the 1930s and then attended the College of the Pacific to study veterinary science. But his passion was music. He eventually changed majors but almost failed to graduate when a professor learned he couldn't sight-read music. He promised never to teach piano and was awarded a degree.
He was drafted into World War 2 after graduating and was assigned to the Army band- his regiment being under the command of General George S. Patton. He would have been at the Battle of the Bulge had he not been asked by the Red Cross to play a special concert.
After the war, he attended Mills college to study music theory and, in 1947, put together the Dave Brubeck Octet, he would pare this down to a trio, but a back injury in 1947 put his plans on hold.
In 1951 he began his famed Dave Brubeck Quartet with Paul Desmond and later Joe Morello and Eugene Wright. Their polytonal music with irregular time signatures thrilled and perplexed their listeners. In 1954 Dave was on the cover of Time Magazine, just the second jazz man to be given that honor after Louis Armstrong.
The band would be sent out by the State Department as part of a program of Jazz diplomacy- it was part showing off the culture and arts of America and part to combat Soviet claims that American racism made them an unworthy world leader- multi-racial bands would be sent to play behind the Iron Curtain (check out the 1997 documentary "Brubeck Returns to Moscow" or 2018's Jazz Diplomacy.)
Their 1959 Take Five would be the first Jazz album to sell 1 million copies, but within a decade, the group would disband while Dave went on a spiritual search. He was raised nominally Presbyterian but was never baptized. He said he began to try and discover "what I'm about, and what my parents were about, and the world is about.
This would lead to his 1968 "The Light in the Wilderness," an oratorio and meditation on the teachings of Christ, largely through the story of his temptation. His 1969 "Gates of Justice," written after the assassination of Martin Luther King, Jr., combined the words of that preacher with those of the prophet Isaiah.
The 1971 Cantata 'Truth is Fallen" is based on another text in Isaiah as a response to the turmoil of the era and the Vietnam War. His first Christmas work- "La Fiesta de la Posada," is a cantata blending Latin, classical, and jazz music.
In 1979 he produced his first Mass- he wasn't Catholic but was asked by a priest to consider using the form to compose sacred music. According to Dave, the priest told him: "Dave, I want people to be happy. I'm tired of people coming up for Communion with sad looks on their faces when it should be the happiest day of their week. So, will you make it rhythmic and kind of feeling of something to make people move up the aisle, maybe swinging a little?
Dave and his wife, Lola, joined the Catholic Church in 1980. Iola would write much of the lyrical content of the religious pieces. In 1983 he wrote his "Pange Lingua Variations' and in 1985, his "Voice of the Holy Spirit: Tongues of Fire." He wrote, "Upon this Rock" in 1987 in honor of Pope John Paul II visiting San Francisco.
Many of his sacred works are not available for commercial release. Still, streaming services have his "To Hope" performed at the National Cathedral and a collection: Classical Brubeck with various sacred pieces performed by the London Symphony Orchestra.
In an article before his death for NPR, Dave wrote: "I believe in the ultimate victory of faith, hope, and love in a world full of conflict and destruction." He died one day short of his 92nd birthday on December 5th, 2012.
The last word for today comes from the daily lectionary- from Isaiah 41:
I will make rivers flow on barren heights,
and springs within the valleys.
I will turn the desert into pools of water,
 and the parched ground into springs.
I will put in the desert
 the cedar and the acacia, the myrtle and the olive.
I will set junipers in the wasteland,
 the fir and the cypress together,
so that people may see and know,
 may consider and understand,
that the hand of the Lord has done this,
 that the Holy One of Israel has created it.
This has been the Christian History Almanac for the 6th of December 2022, brought to you by 1517 at 1517.org.
The show is produced by a man whose Purdue Boilermakers made a valiant effort in their loss to Michigan- they are going to the Cheez-It Citrus Bowl- he is Christopher Gillespie.
The show is written and read by a man whose Trojans made no such effort and will be at the dumb Goodyear Cotton bowl. I'm Dan van Voorhis.
You can catch us here every day- and remember that the rumors of grace, forgiveness, and the redemption of all things are true…. Everything is going to be ok.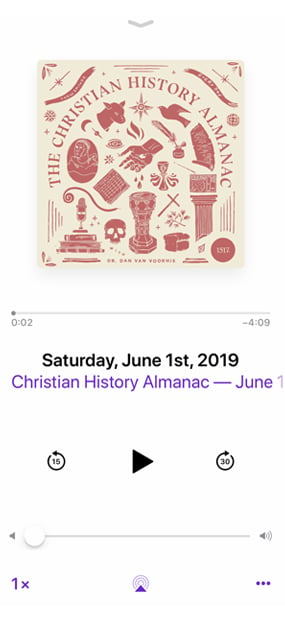 Subscribe to the Christian History Almanac

Subscribe (it's free!) in your favorite podcast app.
Apple Podcast