Tuesday, November 29, 2022
Today on the show, we remember author Madeleine L'Engle.
It is the 29th of November 2022. Welcome to the Christian History Almanac brought to you by 1517 at 1517.org; I'm Dan van Voorhis.
Today is the 104th anniversary of one of the more remarkable, frequently banned, and also beloved American authors. It was on this, the 29th of November in 1918, that Madeleine L'Engle was born in New York City to her mother, also called Madeleine, and her father, Charles, a writer then serving in France at the end of the first World War.
When she was 12, her family moved to Europe, and she was sent to a boarding school in Switzerland. When she was 15, they moved back to the states, where Madeleine would attend a boarding school in South Carolina. When she was 18, she was called to Jacksonville, where her father was ill- he died before she arrived. Her novels would feature isolated women, often with an absent or distant father.
She attended Smith College- a Women's college in Massachusetts, and earned a B.A. in English in 1941. She moved back to New York and worked as an actress on Broadway. It is here that she met her husband, Hugh Franklin- also an actor who would later gain prominence when he was cast on the soap opera All My Children as Dr. Charles Tyler. They would move to Connecticut, where they attended the congregational church, and she served as choir director.
She went through a crisis of faith and found comfort in reading physics, from max Planck to Albert Einstein. She insisted that they provided her with a vast picture of a world created, sensible but also filled with wonder.
As she approached her 40th birthday, she was considering giving up writing as a career- she had published a few works but nothing then of note. It was her book "A Wrinkle in Time," which she finished in 1960, was rejected more than two dozen times, and finally published in 1962 that brought her fame and infamy.
She wrote in her diary, "If I've ever written a book that says what I believe about God and the universe, this is it." The book follows Meg and her brother Charles Wallace and her friend Calvin who travel in time to rescue their father, who has been captured by the Dark Thing. It won the Newbury medal in 1963 and has sold over 16 million copies in 30 languages.
Tara Isabella Burton wrote of it, "A Wrinkle in Time is a deeply Christian book, informed by not just L'Engle's spirituality but her specifically Episcopalian background. For most of her life, L'Engle was a devoted Christian (she served as librarian and writer in residence at New York City's St. John the Divine church), and her specific vision of Christianity was central to A Wrinkle in Time's climax."
Yet despite this, it was boycotted and banned by Christians who saw it as promoting witchcraft and "new ageism." The American Library Association has rated it consistently high in its list of the top 100 banned books.
In her "A Light so Lovely: The Spiritual Biography of Madeleine L'Engle," Sarah Arthur compares L'Engle to C.S. Lewis (who shares today as a birthday)- she writes:
"To combat [modernist assumptions], Lewis mined back into the riches of tradition—the ancient myth of Cupid and Psyche for his novel Till We Have Faces, for instance…in order to glean insights about God and human nature that had been dismissed or forgotten. L'Engle, by contrast, pressed forward into the mysteries of scientific discovery. … She engaged science to show just how small, how relative, how limited our view of God has been in light of the wonders of an astonishing universe."
L'Engle herself wrote: "What I believe is so magnificent, so glorious, that [my belief] is beyond finite comprehension. To believe that the universe was created by a purposeful being is one thing. To believe that this Creator took on human vesture, accepted death and mortality, was tempted, betrayed, broken, and all for love of us defies reason."
She would write multiple books following the characters from A Wrinkle In Time and their progeny, as well as works of non-fiction and poetry.
She died in 2007. Born on this day in 1918, Madeleine L'Engle was 88 years old.
The last word for today comes from the daily lectionary- from Hebrews 11:
32 And what more shall I say? I do not have time to tell about Gideon, Barak, Samson and Jephthah, about David and Samuel and the prophets, 33 who through faith conquered kingdoms, administered justice, and gained what was promised; who shut the mouths of lions, 34 quenched the fury of the flames, and escaped the edge of the sword; whose weakness was turned to strength; and who became powerful in battle and routed foreign armies. 35 Women received back their dead, raised to life again. There were others who were tortured, refusing to be released so that they might gain an even better resurrection. 36 Some faced jeers and flogging, and even chains and imprisonment. 37 They were put to death by stoning; they were sawed in two; they were killed by the sword. They went about in sheepskins and goatskins, destitute, persecuted and mistreated— 38 the world was not worthy of them. They wandered in deserts and mountains, living in caves and in holes in the ground.
39 These were all commended for their faith, yet none of them received what had been promised, 40 since God had planned something better for us so that only together with us would they be made perfect.
This has been the Christian History Almanac for the 29th of November 2022, brought to you by 1517 at 1517.org.
The show is produced by a man with as many kids as Erika Kane had husbands- he is Christopher Gillespie.
The show is written and read by a man happy to make a Pine Valley reference on this show- I'm Dan van Voorhis.
You can catch us here every day- and remember that the rumors of grace, forgiveness, and the redemption of all things are true…. Everything is going to be ok.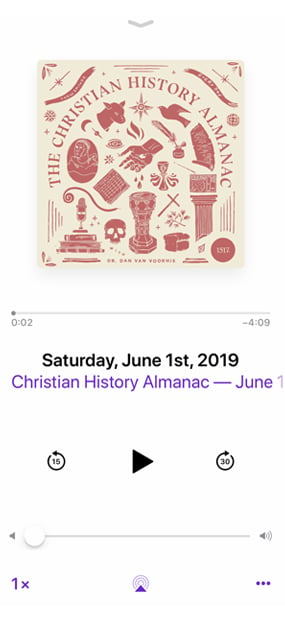 Subscribe to the Christian History Almanac

Subscribe (it's free!) in your favorite podcast app.
Apple Podcast