Wednesday, November 23, 2022
Today on the show, we tell the story of Baptist minister and comedian Grady Nutt.
*** This is a rough transcript of today's show ***
It is the 23rd of November 2022. Welcome to the Christian History Almanac brought to you by 1517 at 1517.org, I'm Dan van Voorhis.
A quick note to start the show- this is episode 1,260- a lot of shows! I get emails from people asking if I've done a show on "such and such" because even if you have listened to all the shows, you might forget if I did one on a given topic. In fact, I sometimes forget if I've done a show on something before. So, a tip- if you go to 1517.org, you can search the website for topics, names, and keywords. And, since the 2nd season, we have been posting the rough transcript of the show- so you can search that and find other resources at 1517.org.
Today I'm going to tell you the story of someone about whom, until last week, I had never heard of- a southern gentleman named Grady Nutt. You could have told me that Grady Nutt of Amarillo, Texas was the head coach of the Auburn Tigers football team in the 70s, and I would have believed you. My instinct wasn't completely off, and Grady Nutt was a Baptist minister turned comedian and cast member on the television show Hee-Haw.
Grady Nutt was born on September 2nd, 1934, in Amarillo, Texas to Grady and Doris Nutt; he was the oldest of four children in a home that he recalls as being both pious and fun-loving- he tells stories about pranks such as receiving a sweater for Christmas with a live mouse in the pocket.
Blessed with stage presence and a strong singing voice as a child, he was licensed as a Baptist minister when he was 13 years old. The following year his father enrolled at Jacksonville Baptist College, and the family moved.
The younger Grady would himself enroll at Wayland Baptist College after graduating high school but was put off by some of its more extreme fundamentalisms and transferred to Baylor (the college that should have beat TCU last weekend and made everything better for the rest of us). There he met his future wife Eleanor, sang in a campus group, and was part of the Yell Leaders for the Bears sports teams.
His first job in the full-time ministry was as a youth pastor at First Baptist Church, Waco. He and Eleanor then moved to Louisville, where he enrolled at the Southern Baptist Theological Seminary. As a student, he served two churches- the second being Graefenburg Baptist Church, which would later serve as the foil for many of his stories about Baptists in the south and life as a Baptist minister.
His popularity with the school and staff led him to be offered a job at the Seminary as director of Alumni Affairs and assistant to the President after graduating. His folksy demeanor and sense of humor caught the attention of Ralph Edwards- a television producer behind a number of game shows and the popular Mike Douglas show. Edwards had Nutt come on "Truth and Consequences" and "This is Your Life" as a contestant and then as a guest on the popular Mike Douglas show. Douglas saw his talent and folksy charm and would have him as a regular guest and fill-in host.
He would record a number of gospel comedy albums. "Gospel" in that they were with Christian or "Gospel" record companies and Christian comedy not in the sense of only being "clean comedy" but also for his insider jabs at his own Baptist church- it's not unfair to compare him to Garrison Keillor who would do to Lutherans in Lake Wobegon what Grady Nutt would do for Baptists in the South.
His popularity leads him to become a cast member of Hee-Haw. For those unfamiliar, it was a variety show like Rowan and Martin's Laugh-In- sketch-based comedy but with a decidedly rural bent and audience. In the early 70s, when CBS axed many of its rural programs (Green Acres, the Beverly Hillbillies), Hee-Haw remained- and became one of the most popular shows in syndication in the 70s.
Grady was also given a pilot for NBC based on his own life as a Baptist minister in the south, but the show wasn't picked up.
It was on this, the 23rd of November in 1982, that he was speaking at an event in Cullman, Alabama, and afterward, his chartered flight crashed shortly after take-off. The pilots and Grady were all killed. Baylor would create the Grady Nutt Memorial Award for student entertainers, and the Gospel Music Association has the "Grady Nutt Humor Award." Grady Nutt was 48 years old.
The Last Word for today comes from the lectionary for today from Psalm 100:
Shout for joy to the Lord, all the earth.
2
Worship the Lord with gladness;
come before him with joyful songs.
3
Know that the Lord is God.
 It is he who made us, and we are his;
 we are his people, the sheep of his pasture.
4
Enter his gates with thanksgiving
 and his courts with praise;
 give thanks to him and praise his name.
5
For the Lord is good and his love endures forever;
 his faithfulness continues through all generations.
This has been the Christian History Almanac for the 23rd of November 2022, brought to you by 1517 at 1517.org.
The show is produced by a man celebrating national Espresso day- (no x's) you can too by going to coffee.gillespie. He is Christopher Gillespie.
The show is written and read by a man who knows today is Marion Berry day- both a politician and a pie- I'm Dan van Voorhis.
You can catch us here every day- and remember that the rumors of grace, forgiveness, and the redemption of all things are true…. Everything is going to be ok.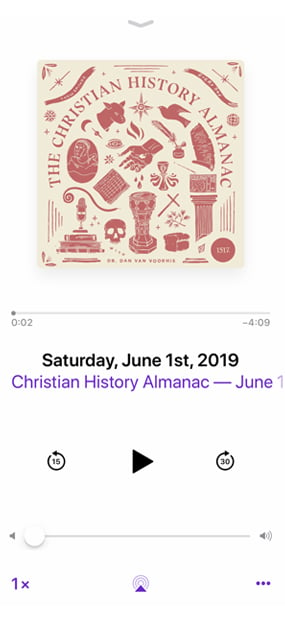 Subscribe to the Christian History Almanac

Subscribe (it's free!) in your favorite podcast app.
Apple Podcast