Thursday, June 30, 2022
Today on the Almanac, we tell the story of Charles Guiteau, evangelist, and assassin.
*** This is a rough transcript of today's show ***
It is the 30th of June 2022. Welcome to the Christian History Almanac brought to you by 1517 at 1517.org; I'm Dan van Voorhis.
Some shows are stranger than others. And, as always, you do not need to listen to every show for this show to make sense- but the more you hear, you might start seeing connections throughout church history. And while I want to be sympathetic to my characters, sometimes you just have to call a bad guy a bad guy.
And we have a bad guy today, the delusional and dangerous Charles Guiteau; he believed he was on a mission from God when he assassinated president Garfield, was arrested, and hanged on this the 30th of June in 1882.
Charles Guiteau was born in 1841 to Jane and Luther Guiteau in Freeport, Illinois. Jane was an invalid who died when Charles was 7, and Luther was especially harsh and abusive towards his son. The family was afflicted with mental health issues that may explain some of Charles' eccentricities, but we might see his father's claim to be immortal as particularly interesting. Luther was a respected businessman but became obsessed with the teaching of John Noyes. Yes, the same John Noyes who founded the Oneida community in Western New York. The Weekend Edition for March 19th and 20th of this year is a deep dive into this fascinating community of Christian perfectionists).
His father taught Charles the doctrines of Noyes despite his father's being forbidden to go to the community by his first and second wives. When Charles turned 18, he moved to New York to join the community instead of going to college. He seems to have been initially welcomed and was involved in 3 complex marriages (it was a thing, you can listen to the weekend show for more on that). But soon, the community believed he was unstable. In fact, after exhibiting strange behaviors, he was told he must live as a "shaker"- that is, he was forbidden to have relations with anyone at Oneida. Isolated, he moved to New York City to start a newspaper on behalf of the community (although they didn't want one). He then tried to blackmail the community but was unsuccessful in that, too.
He was married for a time, but his wife sued for divorce after he contracted a disease from another woman. He was a debt collector but was jailed for stealing from his company. His sister in Wisconsin took him in until he attacked her with an ax and was kicked out.
He saw himself in the tradition of Moody and Sankey despite not being a good public speaker. He blended Christianity and politics, writing a book called "Truth: A Companion to the Bible" and wrote stump speeches he performed to small crowds on behalf of Horace Greeley. His book, however, was plagiarized from Noyes, and his lessons for Greeley were changed to Garfield when Garfield was nominated for president.
When Garfield won the presidency, Guiteau believed himself responsible for it and began lobbying for a diplomatic appointment. He stalked the Secretary of State and President until he was finally told he was not welcome in DC. It was then Guiteau believed he heard from God that he would save the American nation by assassinating President Garfield. The assassination story is fascinating and has its scenes and song in Stephen Sondheim's "Assassins." There was no secret service; Garfield and other American Presidents, even in the wake of Lincoln, believed they had the right to walk about freely in a healthy republic.
Guiteau shot Garfield, but Garfield would not die for two weeks- the doctors poking and prodding with un-sanitized tools led to an infection that killed him.
Guiteau was defended with the excuse of insanity- and his lawyer was agnostic- this would lead to a public debate about the place of faith in the courts and the use of the "I sincerely believed God told me to do it" defense in the court.
Let's give Sondheim the last word on Charlie.
Charlie Guiteau
Drew a crowd to his trial
Led them in prayer
Said, "I killed Garfield
I'll make no denial
I was just acting
For Someone up there
The Lord's my employer
And now He's my lawyer
So do what you dare"
Charlie said, "Hell
If I am guilty
Then God is as well"
But God was acquitted
And Charlie committed
Until he should hang
And he did, on this, the 30th of June in 1882.
The Last Word for today comes from the lectionary for today from Romans:
21 So I find this law at work: Although I want to do good, evil is right there with me. 22 For in my inner being I delight in God's law; 23 but I see another law at work in me, waging war against the law of my mind and making me a prisoner of the law of sin at work within me. 24 What a wretched man I am! Who will rescue me from this body that is subject to death? 25 Thanks be to God, who delivers me through Jesus Christ our Lord!
This has been the Christian History Almanac for the 30th of June 2022, brought to you by 1517 at 1517. org.
The show is produced by a man who has made a habit of vacationing at American Utopian communities; he is Christoper Gillespie (and that's an actual fact!)
The show is written and read by a man who will never apologize for the show tunes… I am Dan van Voorhis
You can catch us here every day- and remember that the rumors of grace, forgiveness and the redemption of all things are true…. Everything is going to be ok.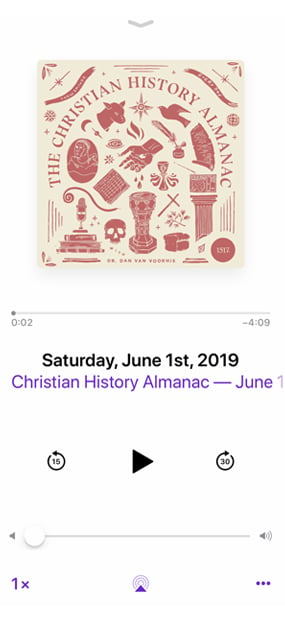 Subscribe to the Christian History Almanac

Subscribe (it's free!) in your favorite podcast app.
Apple Podcast