Tuesday, May 24, 2022
Today on the Almanac, we remember "Aldersgate Day" and share a personal note.
*** This is a rough transcript of today's show ***
It is the 24th of May 2022. Welcome to the Christian History Almanac brought to you by 1517 at 1517.org, I'm Dan van Voorhis.
Today we remember "Aldersgate Day"- an important memorial for the methodist church and in the life of John Wesley. Today I'd like to zoom out a little in looking at the Methodist church and its legacy.
John Wesley's dates are 1703-1791. He was the son of a priest in the Anglican Church, he attended Oxford where he received his Bachelor's and Masters by 1727.
He served as a curate under his father but went back to Oxford where his younger brother Charles was studying. Here John and Charles led the "Holy Club"- a group of Anglican men desiring to live holy lives. Their methodical approach to attaining holiness garnered them the pejorative name "Methodists".
After the death of his father, he and his brother traveled to Georgia where they worked as missionaries and came in contact with the Moravians. Moravians were Christians that were tied to the heritage of Jan Hus (that Reformer before the Reformation). Moravians in Saxony and America were influenced by Lutheran Pietists with their emphasis on personal holiness.
The Wesleys saw this first missionary experience as a failure and headed back to England. Here they reengaged with the growing "Methodist" movement and it was on this, the 24th of May in 1738, that John attended a service on Aldersgate where Martin Luther's preface to the Book of Romans was read. Here John would write in his diary that his heart was "strangely warmed" and he would consider this his conversion- despite having been a professing Christian since his youth.
After the Revolutionary War in America, the Anglican Church was unwelcome in the new country for obvious reasons and thus the "Anglican" tradition would be carried on in the Methodist Episcopal Church.
Like all American denominations, we could play the "watch the church divide and fracture over time" game… ultimately the church would go I'm to directions- one emphasizing personal holiness and conservative values: these often take the name "Wesleyan" or have the word "Holiness" in their title. The major group of Methodists today come from the 1968 merger of a number of churches into the "United Methodist Church".
Both church bodies emphasize holy living- the conservatives placing the emphasis on personal holiness and the mainline emphasizing social holiness. The root of this movement goes back to John Wesley and his personal conversion on Aldersgate street on this day in 1738.
I'm pulling this story short today for a quick personal note and entreaty.
One of the questions I receive a lot is "who is the most significant Christian in X" or "the most important figure in (blank)". And while my job is to look at the big picture- most often the most important Christian in a movement or in someone's life is going to be the Christian who is there. The unheralded Christian who is encouraging, praying for, and loving you.
And despite the silliness and folly of many church figures on this side of heaven, there are those pastors who quietly minister to, baptize, commune, exhort, and comfort.
Who is the most significant Christian in my life? It would be hard for me to place anyone higher on the list than Pastor Ron Hodel who died this past weekend. He was the chaplain for 1517. 1517 exists in large part because of the church he pastored for years where many of us first met. And while we have scholars and teachers and authors- it was Ron who was baptizing, communing, comforting, and telling us that in Jesus everything was going to be ok.
He knows that now. Face to face with the one he spent his life pointing us to, and in the presence of the Jesus he preached so faithfully to us- Pastor Hodel has now has heard "well done my good and faithful servant".
Please join me and so many others in lifting up his wife Gail in prayer as well as his kids Chris, Margaret, Karl, and Andrew and their children.
The last word for today comes from 1 Corinthians 15:
When the perishable has been clothed with the imperishable, and the mortal with immortality, then the saying that is written will come true: "Death has been swallowed up in victory."

"Where, O death, is your victory?
Where, O death, is your sting?"
The sting of death is sin, and the power of sin is the law. But thanks be to God! He gives us the victory through our Lord Jesus Christ.
This has been the Christian History Almanac for the 24th of May 2022 brought to you by 1517 at 1517.org.
The show is produced by Christopher Gillespie.
The show is written and read by Dan van Voorhis.
You can catch us here every day- and remember that the rumors of grace, forgiveness, and the redemption of all things are true…. Everything is going to be ok.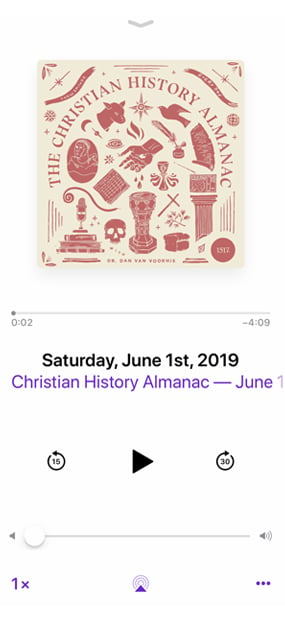 Subscribe to the Christian History Almanac

Subscribe (it's free!) in your favorite podcast app.
Apple Podcast