Monday, November 13, 2023
Today on the Christian History Almanac, we head to the mailbag for a promised show on Hudson Stuck.
It is the 13th of November, 2023. Welcome to the Christian History Almanac brought to you by 1517 at 1517.org. I'm Dan van Voorhis.
Hey there, and a very happy Monday to you- it is, of course, the day we head to the mailbag, and while we just had a mega mailbag for the weekend show, I promised on that show to get to the question from Ron in Anchorage…. Or for the sake of his kids, I'll call him Ron… in Anchorage.
He wrote to me asking if we had done a show on Hudson Stuck and forgot how to look for previous shows- honestly, outside of some clever person coming up with a way to strip the show titles for a searchable database, I have found typing "Christian History Almanac" in quotations into google and then the topic or person of your choosing.
Anchorage, Alaska- I didn't know it's bigger than Rhode Island and almost as far west as Honolulu. And there's urban fishing- it's one of the five states I need to get to, so, if you're looking for a church historian to give a talk….
Hudson Stuck is one of those celebrities of yesteryear who has been unfortunately forgotten over time. There's a book- Breaking Trail: Hudson Stuck of Texas and Alaska by David Dean, you can read for free at the Internet Archive at archive.org.
Interestingly, Stuck "of Texas and Alaska," as the book says, was from neither- he was an Englishman. Stuck was born on the 11th of November (wait, this past Saturday when I said I would do a show on him!) in Paddington near London. He was raised Presbyterian but became attracted to the Church of England and its High Church services.
He attended Kings College but wanted to travel. He and a friend, Fred Hall, decided that they would flip a coin to see where they would go- heads meant Australia and tails: Texas. Tails it was, and they headed to the States.
The life of an adventurer suited him, but he felt called to ministry. He attended the University of the South in Sewanee, became an ordained priest, and served as the Dean of the Cathedral in Dallas until 1903.
He would then take a call to Alaska- a dream for the man who sought to blend his love of adventurism and care for the poor and dispossessed. He wrote, "I am sorry for a life in which there is no usefulness to others… there is a need of personal works by men and women to those less favored." He would be named "Archbishop of the Yukon," where he would travel over 10 thousand miles on a dog sled setting up missions churches, a grammar school for boys, a night school for mill workers, and a home for indigent women (that is a poor woman with no basic necessities and social support).
Stuck would be described by one historian as "an ice-encrusted Lawrence of Arabia, undergirded with the zeal of St. Paul." His stories, which he recounted in a few works, read like a missionary-meets-Jack London". An obituary from October of 1920, when he died, wrote that he "probably has a record of Alaskan travel never attained by any other."
He is famous for his books but for two primary purposes. One, he was the co-leader of the first group to climb Mt. Denali in 1913 (which is what was once called Mt. McKinley- my son Raymond answered the question: what is the highest peak in North America in school with "Mt. Denali" to be told, no it was Mt. McKinley to his consternation). Upon making the summit, his party erected a 6-foot cross and sang the Te Deum.
As a missionary, he as famous for insisting that the natives didn't need to adopt Western ways of worship- that they could be Christians as Inuits, Yupik, or other indigenous tribes. He believed that aboriginal culture was as suited to Christianity as anything from England or Texas. He used his books to not highlight his own life (although they read like adventure stories) but to put a spotlight on Aboriginal culture and to rail against the large-scale salmon fisheries which were destroying the native economy and lifestyle.
It was in 1920 that Hudson Stuck died of Pneumonia- the local paper, the Weekly Star, reported:
"By the lately reported death of the Ven. Hudson Stuck, archdeacon of the Yukon, the northland has lost a great scholar, Arctic lore and exploration a great exponent and the Indians and Eskimos an unflinching and ardent champion."
Today, thanks to Ron in Anchorage, we remember the Archbishop of the Yukon, Hudson Stuck.
The last word for today is from the Te Deum- one of the very ancient hymns of the church- this is the initial stanza:
We praise thee, O God: we acknowledge Thee to be the Lord.
All the earth doth worship Thee, the Father everlasting. 
To Thee all Angels cry aloud: the Heavens and all the powers therein. 
To Thee Cherubim and Seraphim continually do cry, Holy, Holy, Holy: Lord God of Sabaoth; 
Heaven and earth are full of the Majesty of Thy Glory. 
The glorious company of the Apostles praise Thee. 
The godly fellowship of the Prophets praise Thee. 
The noble army of Martyrs praise Thee. 
The holy Church throughout all the world doth acknowledge Thee; 
The Father of an infinite Majesty; 
Thine honourable, true, and only Son; 
Also the Holy Ghost: the Comforter.
This has been the Christian History Almanac for the 13th of November 2023, brought to you by 1517 at 1517.org.
The show is produced by a man whose favorite things "Yukon," include the Archbishop of the Yukon Hudson Stuck, the yellow-fleshed Yukon Gold Potato, and the owner of a peppermint Mine, Yukon Cornelius. He is Christopher Gillespie.
The show is written and read by a man off to get his life-sustaining supplies: cornmeal, gunpowder, ham hocks, and guitar strings- I'm Dan van Voorhis.
You can catch us here every day- and remember that the rumors of grace, forgiveness, and the redemption of all things are true…. Everything is going to be OK.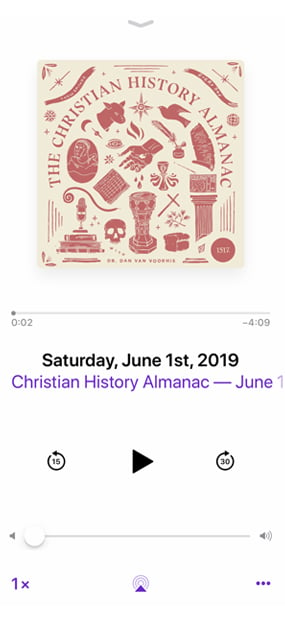 Subscribe to the Christian History Almanac

Subscribe (it's free!) in your favorite podcast app.
Apple Podcast