Thursday, January 19, 2023
Today on the show, we remember the mysterious murder of Albert Glock.
It is the 19th of January 2023. Welcome to the Christian History Almanac brought to you by 1517 at 1517.org. I'm Dan van Voorhis.
With well over 1000 shows done, I can tell you this is the first murder mystery involving a Lutheran pastor, archaeology, and the dispute between Israel and Palestine. While murder mysteries are inherently interesting and attractive, I would like to remember that this story is ultimately a tragedy and not just some salacious tale.
It was on this, the 19th of January in 1992, that the Lutheran pastor and archaeologist was murdered outside of the home of a colleague in the West Bank. This took place in the midst of the intifada- an uprising of Palestinians against Israeli occupation and near the one-year anniversary of the commencement of US/Iraqi engagement in Operation Desert Storm.
Albert Glock was born in 1925 in Idaho to a family of German Lutheran immigrants. He graduated from Concordia Seminary in St. Louis in 1950 and earned a Master's degree from the Lutheran School of Theology in Chicago. He served as the pastor of a Lutheran church for a number of years in Normal, Illinois.
In 1962 he took his first missionary trip to the Holy Land- he had recently begun studying Archaeology at the University of Michigan. His interests took him to the site of Taanach- believed to be an ancient Canaanite encampment wiped out by Joshua. It is in the north part of the West Bank, East of Caesarea, and south of Nazareth.
While there, he discovered the archaeology of a more recent past: of Palestinian settlements from hundreds, not thousands of years ago. He believed that these sites were being swallowed up by "Bible Archaeology" and depriving the locals of their own history. In 1976 he was invited to join the faculty of Birzeit University in the West Bank. It was a controversial school as it was for Palestinians in the midst of an occupied West Bank. Glock began a department of Archaeology and the Center for Palestinian Archaeology. In 1978 he was made the director of the Albright Institute for Archaeology.
His work focused on the history of Palestine, and thus he would be seen with suspicion by some Israelis. Furthermore, in some Christian circles working on behalf of Palestinians was tantamount to betrayal (note: to weld ancient Israelites and the modern state of Israel takes some gymnastics and usually is in service of a particular doctrine of the end times). He kept his work private, not wanting to attract attention- Glock wrote:
"Since only officials seeking to extend governmental control (local or foreign!) enter a house to ask the kinds of questions ethno-archaeologists ask, to measure, and to take pictures, it is little wonder that there is a reluctance to entertain such study in some parts of the Middle East."
And thus, he was held in suspicion by some local Palestinians. Furthermore, he had a collegial relationship with a female on staff, and this caught the attention of some more radical Muslims who saw him as a western interloper.
Additionally, his work was rumored to have cast doubt on some of the legitimacy of local Israeli claims.
It was on this, the 19th of January- a rainy Sunday, and he was on his way from his office to the home of a colleague to drop off some work. Pulling up to the driveway a little after 3 pm, he walked towards the door when a man approached him with a face covering- the man shot Glock 3 times, the last in the heart, killing him instantly. It was noted that the gunman used an Israeli gun and left in a car with Israeli plates.
Even though the police headquarters is only 10 minutes away, it took the Israeli Defense Force 3 hours to arrive at the scene. The Jerusalem Post suggested it may have been the Palestinian group Hamas, trying to undermine peace talks, or a disgruntled colleague and former student whom Glock had once thought not worthy of a position at the school.
It would be curious if it were an Israeli hit job as if they were afraid of his work, they could revoke his Visa, which he had to have renewed every three months. It seems unlikely that a former student- who had by then received a position- would attempt to arrange the hit. And the Palestinian Authority would not likely murder a pro-Palestinian man from the west. The murder of the Reverend Albert Glock on this day in 1992 remains unsolved. Edward Fox has written "Palestine twilight: the murder of Dr. Albert Glock and the archaeology of the Holy Land" for Harper Collins Press.
The last word for today comes from the daily lectionary from Psalm 27:
The Lord is my light and my salvation—
whom shall I fear?
The Lord is the stronghold of my life—
 of whom shall I be afraid?
2
When the wicked advance against me
 to devour me,
it is my enemies and my foes
 who will stumble and fall.
3
Though an army besiege me,
 my heart will not fear;
though war break out against me,
 even then I will be confident.
4
One thing I ask from the Lord,
 this only do I seek:
that I may dwell in the house of the Lord
 all the days of my life,
to gaze on the beauty of the Lord
 and to seek him in his temple.
5
For in the day of trouble
 he will keep me safe in his dwelling;
he will hide me in the shelter of his sacred tent
 and set me high upon a rock.
6
Then my head will be exalted
 above the enemies who surround me;
at his sacred tent I will sacrifice with shouts of joy;
 I will sing and make music to the Lord.
This has been the Christian History Almanac for the 19th of January 2023, brought to you by 1517 at 1517.org.
The show is produced by a man who knows Normal Illinois as the home of Illinois State University and hundreds of bad puns- he is Christopher Gillespie.
The show is written and read by a man who knows Normal as the home of the Steak and Shake- better than Whataburger, nowhere close to In N Out. I'm Dan van Voorhis.
You can catch us here every day- and remember that the rumors of grace, forgiveness, and the redemption of all things are true…. Everything is going to be ok.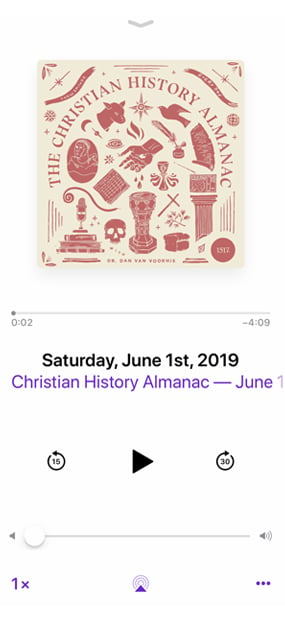 Subscribe to the Christian History Almanac

Subscribe (it's free!) in your favorite podcast app.
Apple Podcast