Thursday, November 24, 2022
Today on the show, we tell the story of an Ethiopian Orthodox Saint: the nun Walatta Petros.
*** This is a rough transcript of today's show ***
It is the 24th of November 2022. Welcome to the Christian History Almanac brought to you by 1517 at 1517.org; I'm Dan van Voorhis.
Ooh boy, we have a number of threads to wind together for today's show. Let's start with the legend of Prester John. This is a legend that came about during the Crusades. The idea was that there was a Christian king in the East- "behind enemy lines" as it were, he was a descendant of the Magi and had conquered the Muslims in his territory and would one day link up with Western Christians to rout the Muslim threat.
Then we have that Ethiopian Orthodox Tawahedo Church- those Oriental Orthodox Christians who, after Arab expansion, would be cut off, alone on the central east coast of Africa. Like Prester John, they were whispered about in rumors in the Western church, but unlike Prester John, they actually existed.
Then we have the Jesuits. The newly formed Order was created in the aftermath of the Reformation. We know that they often looked to spread Roman Catholicism into parts of the world outside Europe. They were missionaries sent to the Far East, South America, and Africa.
Now, consider one of these Jesuits: Afonso Mendes. Mendes, knowing of both the legend of Prester John and the Christians in Ethiopia, was sent by Pope Urban VIII to Ethiopia to suss out the situation. The King of Ethiopia: Susenyos had been in a power struggle and showed a willingness to accept help from the Roman church in exchange for converting to the Roman Catholic branch of the church. Furthermore, the Ethiopian King knew the legend of Prester John and the zeal of the Jesuits would serve him in establishing his rule over the country.
Enter Walatta Petros- one of the more remarkable women in the 17th century and the first African woman to have a full-length biography written about her- the story of her life was written a few decades after her death, and while the various manuscripts existed in non-critical form- since 2015 we have had a definitive critical edition of her biography in English published by Princeton University Press.
Walatta Petros (Daughter of Peter, as in St. Peter) was born in 1592 to a noble family. At a young age, she was married off to an advisor of Susenyos, the King of Ethiopia. It was an unhappy marriage, and Walatta dreamed of becoming a nun. In 1612 when Susenyos converted to Roman Catholicism and demanded that his court and their wives do likewise, she fled. Her husband terrorized a local village, and when she heard about it, she returned so that others wouldn't be harmed. When she learned he was involved in the murder of an Orthodox priest, she went on a hunger strike until he agreed to let her go. She went to a monastery on Lake Tana, where she began preaching against the European Roman Catholics and the King with their demand for forced conversion. She was arrested again but her noble connections kept her from being put to death. She was sent to Afonso Mendes but he could not convert her- she was sent into exile in Sudan.
Here she went on preaching and creating a community of persecuted Ethiopian Orthodox Christians who would eventually form three different communities. By the time of her death, there would be seven. By 1632 Susenyos grew weary of the resistance to the forced conversion, called it off, and soon after died. His son Fasilides would take the throne and banish the Jesuits and have their books burned. Walatta Petros would be hailed as a hero and symbol of Ethiopian resistance to European incursion. Fasilides would dedicate land in Qwara in Northern Ethiopia for a monastery in her honor that still exists today. Walatta Petros would die in 1642 on this, the 24th of November (maybe the 23rd, but nevertheless, a remarkable woman).
The Last Word for today comes from the lectionary for today from James:
7 Submit yourselves, then, to God. Resist the devil, and he will flee from you. 8 Come near to God and he will come near to you. Wash your hands, you sinners, and purify your hearts, you double-minded. 9 Grieve, mourn and wail. Change your laughter to mourning and your joy to gloom. 10 Humble yourselves before the Lord, and he will lift you up.
This has been the Christian History Almanac for the 24th of November 2022, brought to you by 1517 at 1517.org.
The show is produced by a man who doesn't eat turkey on Thanksgiving- that's too easy- his family feasts on the wild condor. He is Christopher Gillespie.
The show is written and read by a man whose here for the deviled eggs and black olives- I'm Dan van Voorhis.
You can catch us here every day- and remember that the rumors of grace, forgiveness, and the redemption of all things are true…. Everything is going to be ok.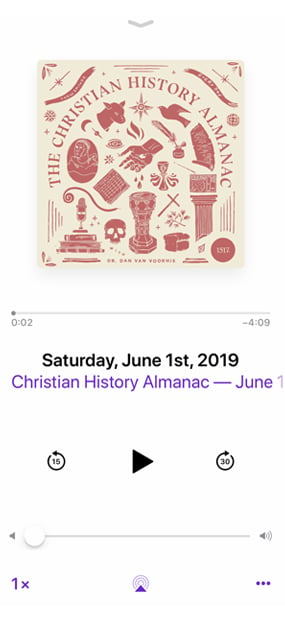 Subscribe to the Christian History Almanac

Subscribe (it's free!) in your favorite podcast app.
Apple Podcast