Friday, October 7, 2022
Today on the Almanac, we remember the Patriarch of American Lutheranism, Henry Melchior Muhlenberg.
*** This is a rough transcript of today's show ***
It is the 7th of October 2022. Welcome to the Christian History Almanac brought to you by 1517 at 1517.org; I'm Dan van Voorhis.
Let me start with a question- are you a Lutheran if you don't know someone with the last name of Muhlenberg? (I will admit, variations on Preuss and Mueller are high on the list too). And if you don't know a Muhlenberg, have you been in or adjacent to a building or institution named after Henry Melchior Muhlenberg or one of his many descendants?
It is the anniversary of the death of HMM on this day in 1787- let's tell the story of a man whose life links the Lutheran Reformation with the church in the American colonies and the United States.
Henry was born in Einbeck, Germany, in 1711 and attended the University of Goettingen- there, he came under the influence of Lutheran Pietists from Halle- the center of Lutheran Pietism under August Hermann Francke. What's a pietist, you ask? I spent a lot of time earlier in my life asking that question- essentially, it was a Lutheran who saw the work of the Lutheran reformation as incomplete, or at least not as receptive to the interior life of faith- it stressed the subjective. Socially they would meet in conventicles (like small groups) and prioritized social work- especially in schools and orphanages.
OK- so this is Muhlenberg's background- he and a few friends started a school and orphanage in the Franckian style in Goettingen. He was also ordained (in 1739) and served as a minister and director of an orphanage until 1741. He had thought he would serve as a missionary to India. Still, he was called to North America after Lutherans who wrote to the University of Halle asked for a minister. And so Muhlenberg was off to the colonies at the age of 30 in 1741
He arrived in South Carolina in 1743 and did not take to the colonists immediately- he was horrified by the slavery and refused when offered an enslaved person himself. He wrote, "the so-called Christians lead a more evil life than the heathen." And later, "this is a terrible state of affairs, which will entail a severe judgment." He made his way to Pennsylvania, where he found the church to which he was called already had a pastor- the kind that plagued the colonies- often on the run from a bad reputation in Europe and offering services for payment (not a salary, but a kind of pay for play chicanery). He gained authority from the people in the church to which he was called, but there was another problem. His name was Nikolaus Ludwig, Reichsgraf von Zinzendorf und Pottendorf aka Count Zinzendorf
On December 30th of 1742, Muhlenberg met with Ziinzendorf to hash out the issue of who would lead the Lutheran church in the colonies- Zinzendorf, of the Moravians, had been ordained as a Lutheran to assuage the Lutherans to which he ministered. Still, his fidelity to Lutheran doctrine was in question. Muhlenberg's fidelity to the Augsburg Confession ultimately gained him the trust of the Lutherans, and he would be their new head.
But in the New World, Muhlenberg knew that the old model of a state church wouldn't work, and so he set out to indeed plant a church, a church that fit with the spirit of these people in a new frontier. In 1748 he formed the Ministerium of Philadelphia, the first synod- that is, an assembly of Lutheran churches that were otherwise congregational in polity (that is, they call their pastors and make decisions on a church-by-church basis). Muhlenberg would come to oversee over 80 churches across the Northeast.
While unabashedly Lutheran, he was open to ecumenical overtures and was friends with the revivalists George Whitefield and George Tennent. As the War of Independence broke out, he was ambivalent- after all, King George was a German from the house of Hannover and a Lutheran.
He wrote, "The flesh and the spirit are struggling within me. The flesh tells me that I should flee or seek protection from the commander-in-chief of the British…Therefore it cannot be looked upon as anything else but a necessary, severe chastistement and grave punishment laid upon both England and America by God the supreme Ruler."
Two of his sons would not share his ambivalence- his eldest, John Peter Gabriel Muhlenberg was a pastor who also served in the Continental Army under George Washington and was a friend of Thomas Jefferson and James Monroe. His second son, Frederick Augustus Conrad Muhlenberg was also a pastor and member of congress- he was the first speaker of the House of Representatives.
Henry was pastor at Augustus Lutheran Church in Trappe, Pennsylvania. He would retire and ultimately be buried after his death on the 7th of October in 1787, at 76.
The Last word for today comes from the daily lectionary, from Psalm 66 and Eugene Peterson's the Message:
Bless our God, O peoples!
 Give him a thunderous welcome!

Didn't he set us on the road to life?
 Didn't he keep us out of the ditch?

He trained us first,
 passed us like silver through refining fires,

Brought us into hardscrabble country,
 pushed us to our very limit,

Road-tested us inside and out,
 took us to hell and back;

Finally he brought us
 to this well-watered place.
This has been the Christian History Almanac for the 7th of October 2022, brought to you by 1517 at 1517.org.
The show is produced by is written by a man who knows 14 Muhlenbergs, 32 Preuses, and an uncountable galaxy of Muellers. He is Christopher Gillespie.
The show is written and read by a man pleased to use the word "chicanery" for the first time on the Almanac- I am Dan van Voorhis.
You can catch us here every day- and remember that the rumors of grace, forgiveness and the redemption of all things are true…. Everything is going to be ok.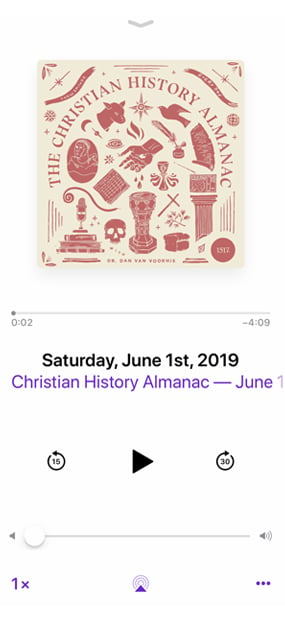 Subscribe to the Christian History Almanac

Subscribe (it's free!) in your favorite podcast app.
Apple Podcast