Wednesday, October 5, 2022
Today on the Almanac, we remember Thomas Goodwin: Puritan, Pastor, and President of Magdalen College at Oxford.
*** This is a rough transcript of today's show ***
It is the 5th of October 2022. Welcome to the Christian History Almanac brought to you by 1517 at 1517.org; I'm Dan van Voorhis.
We head back to Reformation England today to tell the story of a man you may not be familiar with but whose life intersected with the major events in the English church in the 17th century.
His name was Thomas Goodwin, and he was born on the 5th of October in 1600. By 13, he was enrolled at Christ College, Cambridge. It was at college when he had a crisis of faith. He was baptized and was studying theology, but in what would be typical of Puritans such as himself, he wanted to examine himself to determine if he was one of the elect. He had yet to take the Lord's Supper and decided that he desired to, and having once taken it, he would be confirmed.
He was, however, denied for being too young. In his own recollection, this led him on a path of doubt, and he began to listen to the popular Arminian preachers of his day (so he saw this theological change as heading towards the path of unbelief).
But in 1620, he was walking near a church with his friends when he heard a church bell toll. Knowing this meant there was a funeral, his friends encouraged him to go in. There he heard a sermon on Jesus lamenting over Jerusalem in Luke 19- he was encouraged to repent and believe now! While he did, he was still unsure of his salvation. It wasn't until a pastor encouraged him to look outside of himself, beyond his own sins (he was very dutiful in cataloging them himself), that he came to trust that he was a Christian and, in fact, had been a Christian. Much of his theological work would then focus on the assurance of salvation- and that is distinct from Faith. That is, Assurance was a kind of second blessing. He lays this out in his "A Child Of Light Walking in Darkness."
He had graduated from Cambridge and was elected a fellow and soon was a licensed preacher at that University. He was also given a position at Trinity Church by King Charles (that is, the first). But this is 1632, and the situation became sticky for a Puritan such as Goodwin with the ascension of Archbishop William Laud- no friend of Puritans. It was only 2 years prior that many of his Puritan colleagues sailed across the Atlantic to form the Massachusetts Bay Colony. Goodwin ended up leaving for Holland- another haven for dissenters and independents. Here he would meet other Puritans with whom he would write the "Apologetical Narration"- a defense of congregational- not Episcopal or Presbyterian church polity.
And then, in 1640, Charles fatefully called the so-called "Long Parliament"- this would lead to the impeachment of Laud. With this, Goodwin and others returned to England, where he was one of the 121 divines called to the Westminster Assembly. He would help author the Westminster Confession and the Savoy Declaration- an addendum to Westminster popular with independents.
When Charles I was arrested, tried, and beheaded during the English Civil War Goodwin was elevated by the new, Puritan-friendly, Oliver Cromwell. Goodwin served as his chaplain and was appointed a lecturer at Oxford along with John Owen. The two were regular preachers at the college and helped lead a brief Puritan revival at the school.
He received a letter from John Cotton inviting him to the Massachusetts Bay Colony in 1650 but instead took a position as the president of Magdalen College at Oxford.
But, this is England in the 1600s, and nothing goes smoothly. With the death of Cromwell, the demise of the Puritan Commonwealth, and the Restoration of the Monarchy with Charles II in 1660, Goodwin lost his position at the college. It moved back to London to serve as an independent pastor to a congregation, some of whom he had known in Holland.
He then lost almost everything with the Great Fire in 1666 and died in 1680. A memoir was pieced together from his writings by his son, Thomas Goodwin the Younger. We remember this man and his eventful 80 years in a turbulent England on this, the anniversary of his birth in 1600.
The Last Word for today comes from the lectionary for today from Mark 11:
20 In the morning, as they went along, they saw the fig tree withered from the roots. 21 Peter remembered and said to Jesus, "Rabbi, look! The fig tree you cursed has withered!"
22 "Have faith in God," Jesus answered. 23 "Truly I tell you, if anyone says to this mountain, 'Go, throw yourself into the sea,' and does not doubt in their heart but believes that what they say will happen, it will be done for them. 24 Therefore I tell you, whatever you ask for in prayer, believe that you have received it, and it will be yours.
This has been the Christian History Almanac for the 5th of October 2022, brought to you by 1517 at 1517.org.
The show is produced by a man happy to see Charles in Charge again, hoping it goes a bit smoother with the new king: Chuck 3. He is Christopher Gillespie.
The show is written and read by a man happy to work in some Charles stuff for his friend Clayton. I'm Dan van Voorhis.
You can catch us here every day- and remember that the rumors of grace, forgiveness, and the redemption of all things are true…. Everything is going to be ok.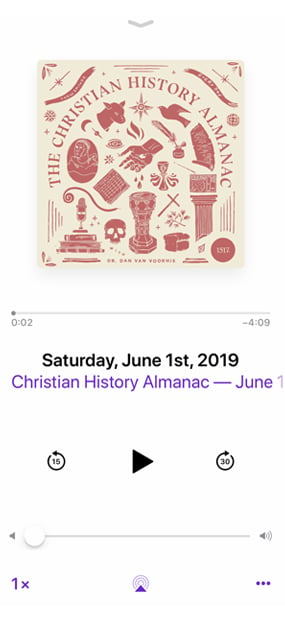 Subscribe to the Christian History Almanac

Subscribe (it's free!) in your favorite podcast app.
Apple Podcast