Monday, October 3, 2022
Today on the Almanac, we head to the mailbag to answer a question about historical parallels to the present.
*** This is a rough transcript of today's show ***
It is the 3rd of October 2022. Welcome to the Christian History Almanac brought to you by 1517 at 1517.org; I'm Dan van Voorhis.
It is a Monday, and so we head to the mailbag- a question from Brandon in Bellevue, Washington.
"Which age of the church is most like our today- where do you see the most comparisons? And knowing this, how could it be helpful for understanding how to navigate the current culture."
Ok- Bellevue Washington- not to be confused with Bellevue Washington DC- it's where Jeff Bezos began Amazon out of his garage, the home of Ann and Nancy Wilson of Heart, and the home of John Olerud- the first baseman for the Toronto Blue Jays who wore a batting helmet in the field.
Brandon- I have been thinking about this question since you sent it in. I'm fascinated by it and also a little bit at a loss as to how I can answer it. And so I began by asking myself how I would characterize our current age.
In a general sense, I think the proliferation of the internet and social media is what the early 21st century will be remembered for. The world is more connected than ever- we have shared knowledge and shared cultures in a way that was not possible decades ago on account of our technological advances.
In the church, I think we might characterize the present in two ways. First, the center of gravity shifts. It is no longer Western Europe and America but instead the southern hemisphere- Africa and South America. And while it might not seem like it if you spend too much time on social media- the church can be characterized as having a good bit of diversity but without adversity. No adversity- but religious schism leading to war is not as prevalent as it has been in the past. So, a new technology that shrinks the world, a geographical and cultural shift in the church, and diversity in the church with relatively little adversity.
And so I have just described the 15th century as well. From Gutenberg's invention of moveable type and the printing press, changes in maps and navigation led to the age of exploration and the church on the eve of the Reformation that was held together with a sometimes-easy truce between national and theological factions. It also might be worth noting that the real and perceived threat of the expansion of Islam (remember, the sack of Constantinople was in 1453, and the fear of Muslims to the east would be a factor in Imperial politics in Western Europe). Furthermore, the center of gravity in the church would move from Southern Europe to Northern Europe and soon into North America.
So- what does this mean? Brandon, I do not know. Because history doesn't repeat itself, that's right! We have parallels but sometimes, where history zigs, the present zags. Maybe we can relax a little bit- things change, and sometimes in ways that are fast and jarring. But even then, the church remains- we might say the gates of hell cannot prevail.
Maybe we recognize that the church took advantage of technological change and, with a shrinking globe and intellectual developments, forged new identities. And, of course, the 15th century was the eve of the Reformation century- and we here at 1517 think that stuff was pretty important.
But, if the past could predict the future, I would not be talking to you on this podcast right now- I would be incredibly wealthy from financial speculation, living in a mansion, figuring out how I could buy the Angels…
Thanks for the question, Brandon. Remember, you can send your questions to me at danv@1517.org- please include the name of your city and something I might find interesting about it lest I assign you a hometown with a silly name.
The Last word for today comes from the daily lectionary:
2 Consider it pure joy, my brothers and sisters, whenever you face trials of many kinds, 3 because you know that the testing of your faith produces perseverance. 4 Let perseverance finish its work so that you may be mature and complete, not lacking anything. 5 If any of you lacks wisdom, you should ask God, who gives generously to all without finding fault, and it will be given to you.
This has been the Christian History Almanac for the 3rd of October 2022, brought to you by 1517 at 1517.org.
The show is produced by a man in Random Lake, which is called that on account of a surveying tool. Huh. He is Christopher Gillespie.
The show is written and read by a man in Lake Forest- named because we have both a man-made lake and a man-made forest- everything is fabricated here. I'm Dan van Voorhis.
You can catch us here every day- and remember that the rumors of grace, forgiveness, and the redemption of all things are true…. Everything is going to be ok.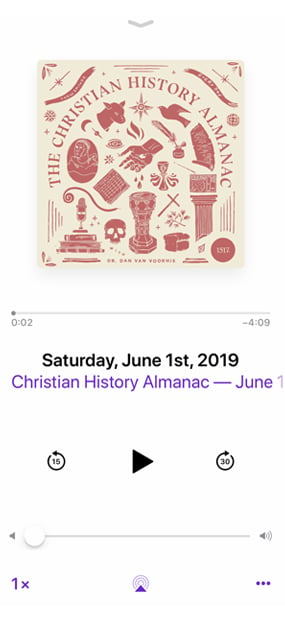 Subscribe to the Christian History Almanac

Subscribe (it's free!) in your favorite podcast app.
Apple Podcast