Thursday, September 22, 2022
Today on the Almanac, we remember the author of perhaps the most often sung hymn in the English language.
*** This is a rough transcript of today's show ***
It is the 22nd of September 2022. Welcome to the Christian History Almanac brought to you by 1517 at 1517.org; I'm Dan van Voorhis.
We can't know for sure- but perhaps as a parlor game- I could ask you: "what hymn has been sung, in the English language, more than any other?"
You can pause the show right now. Ask the person in the car next to you. Or if you're jogging, stop the next person you pass (I'm sure they'd appreciate it).
Ok- back? I think it might be "Just As I Am," the 19th-century hymn written by Charlotte Elliot. It was the indispensable and ubiquitous hymn sung at every Billy Graham Crusade- and by his ministries counting, he preached to over 215 million people. Not to mention it is found in most hymnals published in the 20th century. One study found it in 1,872 hymnals. To compare, "Amazing Grace" is in 1,367 and A Mighty Fortress in 652.
So- let's take a look at the story behind this hymn and its author- Charlotte Elliot, who, as it turns out, died on this, the 22nd of September in 1871.
A refresher- it's the one that goes:
Just as I am, without one plea
But that thy blood was shed for me,
And that thou bidd'st me come to thee,
O Lamb of God, I come, I come
What we know of Miss Elliot is rather scarce- partially because for most of her life, she was bedridden with a sickness that her biographers seem never to identify- we'll get to that in a minute.
She was born in 1879- her father was a lawyer, and her grandfather was Henry Venn- he of the famous Clapham Sect. (Really fast: most Christians in England belonged to the Church of England- denominations weren't as rife as they were in America- and so you find "sects," groups within the church that emphasize certain tenets or practices- the Clapham sect was evangelical, expressive and involved in social work. Amongst the more famous was William Wilberforce- the minister at the head of the Abolitionist movement).
Her uncle was a minister in the church of England, as were her two brothers. But Charlotte was not especially interested in religious matters. In the biography of her written by her sister, she was recalled as having a poetic temperament and being especially clever- she was in circles with what her sister called "the most brilliant wits and writers of her day." Still, there was an absence of religion if not outright hostility to it.
But around her 32nd birthday in 1821, she was struck with an illness- the details are scarce, but it seems like it was depression or something that was accompanied by a deep depression. She would become a recluse- the fall and winter made it worse, and her sister wrote of her Dr who was especially qualified acting upon her body "as she often said, through her mind and understanding"
It was around this time that the evangelist Cesar Malan from Switzerland visited the family (they would receive these types of visitors as central characters in the Clapham Sect). He is said to have asked Charlotte if she knew she was saved. She replied with something unkind and bid him leave.
Later, she was stung by her rudeness and asked for his company again. She would receive him again and ask him how one might know that they were saved or, in fact, come to be saved. His response was, "You must come just as you are, a sinner, to the Lamb of God that taketh away the sin of the world." She contemplated this and, on the 9th of May in 1822, came to faith.
The following year a number of deaths in the family and to family friends sent her into a depressive spiral form in which she would write poetry collected in her "the hours of sorrow." She would go on to write and edit collections of poetry and hymns.
In 1834, at the age of 45, she was bedridden while the family attended a bazaar their brother had put on to raise money for a school for the poor (there was no public education). Alone at home, she composed the poem "Just As I Am"- she placed it in a hymn book she edited- without her name. There is a story that later in life, she was visited by a doctor who thought he might know just what could help Charlotte, the words to a hymn. It was "Just as I Am" (and also another clue that depression was her problem- that the doctor would "prescribe" these words for her).
She would write over a hundred hymns, but none with the staying power of Just As I Am- perhaps the most sung hymn in the English language- written by Charlotte Elliot, who died on this, the 22nd of September in 1871 at the age of 82.
The Last Word for today comes from the lectionary for today from 2 Corinthians:
8 I am not commanding you, but I want to test the sincerity of your love by comparing it with the earnestness of others. 9 For you know the grace of our Lord Jesus Christ, that though he was rich, yet for your sake he became poor, so that you through his poverty might become rich.
This has been the Christian History Almanac for the 22nd of September 2022, brought to you by 1517 at 1517.org.
The show is produced by a man who heard the name Cesar Malan and wondered how the dog whisperer was also a Swiss evangelist- he is Christopher Gillespie.
The show is written and read by a man who has strong feelings about insurance and insurance adjustors, I'm Dan van Voorhis.
You can catch us here every day- and remember that the rumors of grace, forgiveness and the redemption of all things are true…. Everything is going to be ok.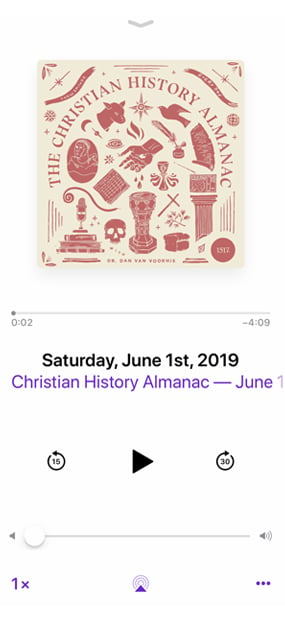 Subscribe to the Christian History Almanac

Subscribe (it's free!) in your favorite podcast app.
Apple Podcast