Wednesday, September 14, 2022
Today on the Almanac, we remember the Puritan founder of America's first college.
*** This is a rough transcript of today's show ***
It is the 14th of September 2022. Welcome to the Christian History Almanac brought to you by 1517 at 1517.org; I'm Dan van Voorhis.
Let's talk about strange mascots. Not necessarily bad mascots- just mascots that might make you scratch your head. Consider the Fighting Okra from Delta State or the Fighting Pickle from UNC School of Arts. The Stanford Tree is, of course, peculiar (and remember, the USC team that crushed them over the weekend used to be called the Fighting Methodists). I'm fond of Mortimer McPestle, especially because he comes from the St. Louis College of Pharmacy.
Keggy the Keg from Dartmouth is kind of funny, as is Artie the Artichoke. Many of these seem to be inside jokes- like the Banana Slugs or Anteaters here in California. But the funniest to me, largely on account of the complete lack of imagination, comes from America's oldest university- that's right- Harvard University's mascot is John Harvard. Just a dude- but with a big creepy head and crazy jawline.
He is, of course, the man after whom Harvard is named- not the founder- but we'll get into that. It was on this, the 14th of September in 1638, that John Harvard died- he was only 30 years old, he had only been in the New World for 14 months, and he didn't have any kids. In fact, very little is known of the man who is sometimes referred to as the founder of Harvard- let's break down what we can know.
John was born in 1607 in London. He was baptized in November of that year to Robert and Katherine- they were relatively well-to-do- Robert was a butcher, and Katherine had inherited land and was the daughter of a livestock dealer. After his baptism, we have no other early record of his life until 1625, when we have a record of his father and siblings dying from the plague.
Two years later, he entered Cambridge University- specifically Emmanuel College- this was a college primarily for Puritans. We know he graduated with a BA and MA in 1635. This was the same year his mother died, leaving him with her inheritance. The following year he was married, and the year after that, his last surviving brother died.
Sometime in 1637, he and Ann sold off the family land and took off across the Atlantic for the Massachusetts Bay Colony (remember, the Puritans on the Mayflower came in 1620, and the Massachusetts Bay Colony was founded in 1630- 7 years prior).
John and Ann would join the First Church of Charlestown, where he would serve as a teaching Elder (as Puritan leadership in the church they didn't have much hierarchy- Elder was the name for the highest level of church leaders, and the teaching elder would often serve in a teaching and preaching capacity).
They took the family inheritance and used it, in part, to purchase 120 acres to raise cattle. Unfortunately, within a year, he would die, possibly from Tuberculosis. While there is no physical will remaining, we know he left 1600 pounds to the local college that had been founded two years prior by some of his old Cambridge classmates. They would uncharacteristically name the new college after him- but we don't have any record of why save that he was widely respected- it appears there was no quid pro quo (as in the latter case of Yale).
The college named after the would-be cattleman was the first in America and was to be a replica of Emmanuel College at Cambridge in the UK. This new school, in a town, also named Cambridge, would be dedicated "In Christi Gloriam" or "to Christ's Glory."
John's extensive library was also donated to the college- some 400 volumes, most of which were theological. They included the works of Augustine, Luther, Calvin, Melanchthon, Beza, and others you might expect from an English Puritan. They were lost in a fire in 1764 (the school recovered, however, and today has some 3.5 million books in 100 languages).
In 1883 the same man who sculpted Abraham Lincoln for the Lincoln memorial offered to create a statue of Harvard for the school. The bronze statue that is still at the University today is sometimes referred to as the "Statue of 3 lies". The three lies are that a placard reads "John Harvard, Founder, 1638".
By 1883 no one knew what Harvard looked like, so the statue is of a man who sat for the sculptor. He wasn't the founder- just a benefactor- and the school opened in 1636, two years before Harvard's death.
Nonetheless, the man that we know so little about has become synonymous with American higher education- John Harvard, born in 1607, died on this the 14th of September in 1638.
The Last Word for today comes from the lectionary for today from Luke 22 from the passion narrative:
31 "Simon, Simon, Satan has asked to sift all of you as wheat. 32 But I have prayed for you, Simon, that your faith may not fail. And when you have turned back, strengthen your brothers."
33 But he replied, "Lord, I am ready to go with you to prison and to death."
This has been the Christian History Almanac for the 14th of September 2022, brought to you by 1517 at 1517.org.
The show is produced by a man whose beard covers a jawline so strong that it could slice bread- he is Christopher Gillespie.
The show is written and read by a man who has been a Falcon, Tiger, Blue Jay, Charger, Vaquero, Trojan, Pirate, Eagle, and Saint. I'm Dan van Voorhis.
You can catch us here every day- and remember that the rumors of grace, forgiveness, and the redemption of all things are true…. Everything is going to be ok.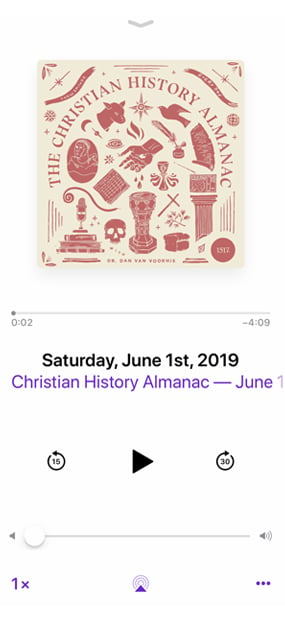 Subscribe to the Christian History Almanac

Subscribe (it's free!) in your favorite podcast app.
Apple Podcast