Thursday, August 25, 2022
Today on the Almanac, we tell the story of the man and missionary behind a society named for him that has little to do with him.
*** This is a rough transcript of today's show ***
It is the 25th of August, 2022. Welcome to the Christian History Almanac brought to you by 1517 at 1517.org; I'm Dan van Voorhis.
Let's keep the weird coming this week- a number of obscure but interesting stories so far this week. Today I've got a name for you that you might know but a story you most likely do not.
Let's start with the name- does "John Birch" mean anything to you? I've asked a few people in the past few days, and I have gotten "no" to "I think I've heard it before." I admit that I used to get John Birch and John Muir confused- essentially because both names would be used for societies. And the John Muir society is about conservation and nature-based I confused it with John Birch.
But the John Birch Society is a society I will almost always steer clear of- it is a very political and partisan group that made a name for itself in the 1960s with a kind of MacCarthy-esque obsession with communism.
It is named for John Birch but has nothing to do with the man who was a firebrand- but not politically. Instead, he was a Baptist missionary in China before and during World War II. Let's break it down.
Birch was born in India in 1918 to American parents who were missionaries. They moved back to the states when he was still a baby and lived in New Jersey and Georgia. John would attend Mercer college- a baptist school- and develop something of zeal for hunting supposed heretics on the college campus. According to one professor of his, "He was like a one-way valve: everything coming out and no room to take anything in."
He graduated at the top of his class and then attended a missionary school run by Texas firebrand and fundamentalist J. Frank Norris. With the World Baptist Fundamentalist Missionary Fellowship, John Birch would head to China in 1941.
There he saw the Japanese mistreatment of the Chinese and became attentive to what he saw as Japanese atrocities. When he heard that Pearl Harbor had been attacked, he asked to be let out of his missionary work to enroll in the U.S Army. He stayed in China working covert missions- one was after Jimmy Doolittle's Tokyo Raid- the B25s dropped the troops over China, and Birch helped Doolittle himself escape Japanese-controlled territory in a small raft that he himself captained.
With the end of the war, Birch continued to work for the US Army and with the Chinese Nationalists (with the expulsion of the Japanese, there would now be the issue of whether or not China would be run by the Nationalists and Chiang Kai Shek or the Communists and Mao Tse Tung). The short story is that Birch was caught up between Chinese factions and killed by the Chinese communists. This put tremendous diplomatic stress on both Mao and US President Harry Truman. The full extent of how Birch died and who killed him would be dealt with clumsily, leading some to claim a conspiracy involving covert communists in the American government.
Birch was killed on this day in 1945- it wasn't until 1958 that a conspiracy theorist and retired candy magnate named Robert Welch formed the John Birch Society (that's right, candy magnate- he was behind junior mints and sugar daddies- but he is NOT the Welch behind the grape juice made initially as a communion replacement).
Welch used the conspiracy of a communist plot in the American government and the idea that Birch was the first martyr of the Cold War (having been killed by Chinese communists) to rally support for his advocacy organization. While Birch's parents seem to have been pleased to have their son memorialized, his siblings and friends argued that while Birch was a firebrand, it was never political but theological. They argue that the John Birch Society has inappropriately blended politics and religion in a way Birch himself would have opposed.
Nonetheless, today we remember the missionary behind the later movement on the anniversary of his death on this day in 1945. Born in 1918, he was 27 years old.
The Last Word for today comes from the lectionary for today from 1 Peter 3:
8 Finally, all of you, be like-minded, be sympathetic, love one another, be compassionate and humble. 9 Do not repay evil with evil or insult with insult. On the contrary, repay evil with blessing, because to this you were called so that you may inherit a blessing.
This has been the Christian History Almanac for the 25th of August 2022, brought to you by 1517 at 1517.org.
The show is produced by a man whose favorite "Doolittle's" include Jimmy, Dr, and the Pixies 1989 album. He is Christopher Gillespie.
The show is written and read by a man who reminds you that technically it's "Pixies," not "the Pixies," and their lead singer's favorite recording artist growing up was Larry Norman. I'm Dan van Voorhis.
You can catch us here every day- and remember that the rumors of grace, forgiveness, and the redemption of all things are true…. Everything is going to be ok.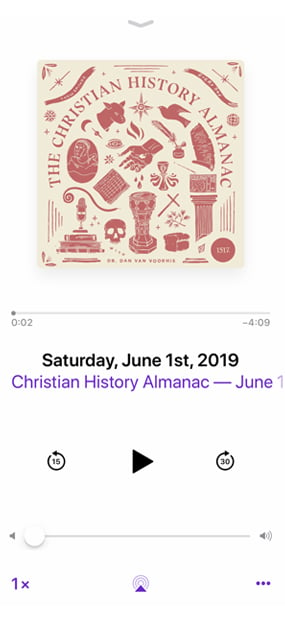 Subscribe to the Christian History Almanac

Subscribe (it's free!) in your favorite podcast app.
Apple Podcast