Monday, August 1, 2022
Today on the Almanac, Dan is back and heads to the mailbag.
*** This is a rough transcript of today's show ***
It is the 1st of August 2022. Welcome to the Christian History Almanac brought to you by 1517 at 1517.org; I'm Dan van Voorhis.
Hey everybody! It's been a few weeks since I was with you- my longest leave since this show began in 2019. Once again, thanks to Adam Francisco. I mean, I suppose- I'm recording this before I leave and before he does the show- so I'm just assuming he did ok… Would also like to condemn any slander from Adam directed at me- whatever it was, it was false. Unless he told me about the time, I hid a rotting dolphin skull in his office as a prank. I did do that.
Ok- mailbag time- a question from Erin in Missouri, which is a big state, so that I will assign you a city. Let's say you are either from Devil's Elbow or Braggadocio (both city names in the Show Me State).
Erin asked about the practice of visiting the Holy Land - and whether that's something Christians have always done.
Great question, Erin. Let's talk about the history of the Christian pilgrimage.
In the Old Testament, Jewish people were required to make a trip to the temple at least once a year (there were other feasts as well that required travel). You might have a local synagogue but there was only one temple.
But this changes with Jesus- consider John 4 with Jesus and the Samaritan woman at the well- he says:
"believe me, a time is coming when you will worship the Father neither on this mountain nor in Jerusalem. 22 You Samaritans worship what you do not know; we worship what we do know, for salvation is from the Jews. 23 Yet a time is coming and has now come when the true worshipers will worship the Father in the Spirit and in truth…
And in Hebrews, we are told that we no longer go to mount Sinai but rather- "you have come to Mount Zion, to the city of the living God, the heavenly Jerusalem."
But still, every year, millions of Christians head to the Holy Land to see where the events of the Bible took place. And, this is not a bad thing. I would like to do this very much. So- I'm not condemning the practice except to say if someone tells you that you HAVE to, you don't.
First- the early church was not concerned with coming TO Jerusalem and the surrounding area but instead interested in leaving Jerusalem to go to the ends of the earth.
Secondly, in the first centuries of the church, making a big fuss about traveling somewhere would be a bad idea. The rule was don't be visible, too loud or an annoyance.
So it might not surprise you that pilgrimages didn't really begin until the time of Constantine, and Christianity became legal in the 4th century. And it was Constantine, the Emperor's mother, that was the first to get in on the act famously. She was determined to find the true cross of Jesus and went to Jerusalem to find it, where she claims to have found it (which is historically impossible to verify). So, for the first time, instead of going OUT of Jerusalem, Christians started to come back.
But the Holy Lands are not just holy for Christians- and in fact, much of the holy Land was occupied in the Middle Ages by Muslim groups. The Crusades were an attempt to get them back, but that's a story for another time.
With the Muslim occupation of the Holy Land, Christians began to find other important centers (just as the early church did with centers in Antioch, Rome, Alexandria, etc.) And just as Helena wanted to find a relic of Jesus, others started to search for other relics- a topic we've talked about on this show before. Soon- places like Santiago de Compostela in Spain with the relics of James or St. Andrews in Scotland with the relics of St. Andrew became popular places to visit for a religious holiday. Of course, Rome and, in particular, the Vatican would be an important place of pilgrimage as well.
Today- what is the most popular Christian site for pilgrimage outside the Holy Land? Answer: it might surprise you that it is the Basilica of Our Lady of Guadalupe in Mexico City- as the Christian faith is growing in the Global South, this might not be surprising.
Thanks, Erin, for your question, and thanks for living in Missouri in the summer… that's got to be worth some kind of special indulgence…
The Last Word for today comes from the lectionary for today from Psalm 127:
Unless the Lord builds the house,
 the builders labor in vain.
Unless the Lord watches over the city,
 the guards stand watch in vain.

In vain you rise early
 and stay up late,
toiling for food to eat—
 for he grants sleep to those he loves.
This has been the Christian History Almanac for the 1st of August 2022, brought to you by 1517 at 1517.org.
The show is produced by a man from the Holy Land of West Lafayette, Indiana, home to one-time Pittsburgh Pirate Bob Friend. He is Christopher Gillespie.
The show is written and read by a man who once took a detour on vacation to see the world's largest coffee pot in Bedford, Pennsylvania, I am Dan van Voorhis
You can catch us here every day- and remember that the rumors of grace, forgiveness and the redemption of all things are true…. Everything is going to be ok.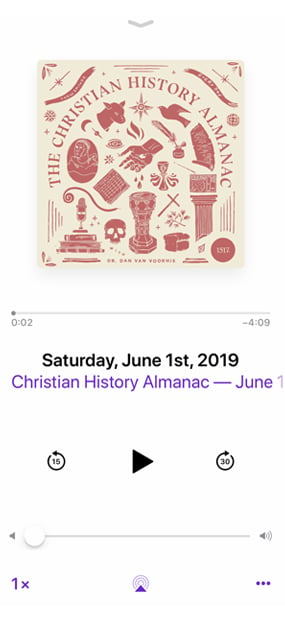 Subscribe to the Christian History Almanac

Subscribe (it's free!) in your favorite podcast app.
Apple Podcast