Wednesday, July 13, 2022
Today on the Almanac, we reflect on the life of Joy Davidman.
*** This is a rough transcript of today's show ***
It is the 13th of June 2022. Welcome to the Christian History Almanac brought to you by 1517 at 1517.org; I'm Dan van Voorhis.
It is far too common that the wives of famous men in the church get only a glance. Maybe the women's group will take her name or some such. Today I'm going to tell you about a woman who was remarkable in her own right but also happened to be famously married to a famous theologian. If you know who Joy Davidman was married to… you know where I'm going… but if you don't, come along for the ride.
Joy Davidman was born in 1915 in the Bronx to Jewish parents. She finished High School at 14 and then went to Hunter College at 15, where she studied literature. After graduating at 19, she was a school teacher before enrolling at Columbia University for a Master's degree. She completed it in 3 semesters.
By 1936, at 21, she had poetry published and won the Yale Younger Poet's Award. She had been to Hollywood as a screenwriter and became involved in the Communist Party in the United States. She claimed she was never an ideologue but wanted a stronger social safety net. She would meet and marry William Lindsay Gresham. He was a left-wing writer but grew concerned with the movement, and he and Joy left. They would have two sons, but his drinking and womanizing would get out of hand. In the meantime, she began to explore her faith, from Judaism to Reform Judaism to Christianity. But she was an intellectual. Pious platitudes wouldn't cut it for her.
A friend at the New York Times had recently written a piece on a famous English theologian and suggested Joy check him out.
He was Clive Staples or C.S. Lewis.
She read The Great Divorce, Miracles, and The Screwtape Letters. She read Francis Thompson's "The Hound of Heaven." She would come to faith and e explained her conversion as "for the first time my pride was forced to admit that I was not, after all, 'the master of my fate'. . . . All my defenses - all the walls of arrogance and cocksureness and self-love behind which I had hid from God - went down momentarily - and God came in."
She and her sons would be baptized at a Presbyterian church.
Her friend encouraged her to write Lewis, but it would be another two years, in 1950, that she would first write him. He responded, and in that same year, she would rather travel to Oxford to meet him.
Joy had recently allowed a cousin of hers to stay with her as she had a husband, not unlike Joy's husband, William. Ironically, this cousin and William would fall in love and would marry. This left Joy with very little income and support. She and her sons would move to England, where Lewis helped pay their rent. Eventually, their relationship grew, and this scandalized many of Lewis' friends. It was especially difficult for Tolkien, who saw Lewis' secrecy with Joy as a betrayal of trust.
Unfortunately, because Joy had been in the Communist Party in the U.S, the British government denied her Visa. Her relationship with Lewis had developed, so the two decided to get married. Her divorce, however, meant they had to have a civil ceremony.
However, she soon discovered that the cancer had spread, and she would likely die. IN 1957, on her deathbed, Lewis was able to find an Anglican priest who would marry the two. Her friends recalled that this ceremony reinvigorated her. For the next few years, she would travel with Lewis as his constant companion. But by 1960, cancer had returned, and she soon would die within months. Her husband wrote her epitaph:
"Here the whole world (stars, water, air,
And the field, and forest, as they were
Reflected in a single mind)
Like cast-off clothes was left behind
In ashes, yet with hopes that she,
Re-born from holy poverty,
In lenten lands, hereafter may
Resume them on her Easter Day."
Joy Davidman had her Easter Day; it was this, the 13th of July in 1960, the day she was translated from this kingdom to the next. Joy Davidman was 45 years old. Lewis would write a book under a pseudonym, A Grief Observed, which dealt with his anger towards God for taking his wife. Today it is published under Lewis' name.
The Last Word for today comes from the lectionary for today from Matthew 25. In the parable the Son of Man praises the righteous who He claims to have fed and clothed him. They respond:
37 "Then the righteous will answer him, 'Lord, when did we see you hungry and feed you, or thirsty and give you something to drink? 38 When did we see you a stranger and invite you in, or needing clothes and clothe you? 39 When did we see you sick or in prison and go to visit you?'
40 "The King will reply, 'Truly I tell you, whatever you did for one of the least of these brothers and sisters of mine, you did for me.'
This has been the Christian History Almanac for the 13th of July 2022, brought to you by 1517 at 1517.org.
The show is produced by a man whose membership in the Communist Party has also caused him grief. He is Christopher Gillespie.
The show is written and read by whose membership in the Costco Wholesale Corporation has caused him problems…like, where does all the toilet paper go? Dan van Voorhis.
You can catch us here every day- and remember that the rumors of grace, forgiveness and the redemption of all things are true…. Everything is going to be ok.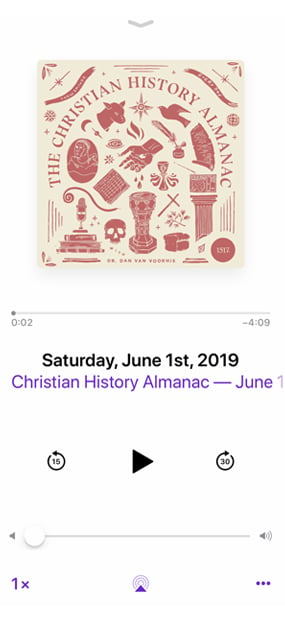 Subscribe to the Christian History Almanac

Subscribe (it's free!) in your favorite podcast app.
Apple Podcast