Thursday, June 16, 2022
Today on the Almanac, we remember a central figure in the history of Christian Apologetics.
*** This is a rough transcript of today's show ***
It is the 16th of June 2022. Welcome to the Christian History Almanac brought to you by 1517 at 1517.org; I'm Dan van Voorhis.
Today, along with our Episcopalian and Anglican friends, we are remembering the priest and philosopher Joseph Butler - a renowned name in what we might call the "Christian Enlightenment."
[and let me give you your bi-annual reminder that the Enlightenment was a multi-faceted movement across centuries and countries. Whenever a Christian brushes off this movement with "ugh, the Enlightenment" and rolls their eyes and Angel is set on fire… I don't make the rules…]
Joseph Butler was born in 1692, the son of a dissenting pastor (that is, not Anglican). So Joseph couldn't go to the "good schools" because of this. Nevertheless, he took up correspondence with the Anglican philosopher Samuel Clarke. Clarke recognized Butler's philosophical acumen and published the correspondence between the two.
The whole "dissenting" thing can clear up pretty quick if a famous philosopher vouches for you to go to Oxford… so… he went to Oxford and was ordained in the Anglican Church. He was the chaplain to the King's Wife and made his way to becoming the Bishop of Durham.
As for Butler and the "Christian Enlightenment," his concern was to develop a response to Deism. Deism, a famous 18th-century religious movement, saw God as a creator but as impersonal. This was supposedly a rational person's religion because it kept reverence for God and nature but eliminated supernatural elements. The Deists' guide was not a prophet or savior or special revelation, but instead character.
Butler would put his philosophical acumen to the problem of Deism in his "The Analogy of Religion," published in 1736. Butler argued that Natural religion was insufficient to answer life's essential questions. He argued that nature was not purely rational but tempestuous and deadly.
He argued that using nature as a kind of guide could be analogous to revealed religion but could only take you so far- that is, nature seems to hint that virtue is rewarded and vice is punished. He argued for the reasonableness of Christianity, which is an exciting moment in the history of Christian Apologetics. We see this phrase, "reasonableness," in the Enlightenment regarding Christianity as a question of whether or not the Christian faith can be taken seriously in academic studies or whether it should be left to the realms of personal and private beliefs.
Butler argued against Fideism, that is, the idea that one must "have faith." He argued against a kind of presuppositional argument that one had first to have faith to investigate the claims of the faith. This puts Butler in a new era of Christian apologetics- a rational defense of the faith for the unbeliever. Butler suggested that we make most decisions based on probability and experience, not grand theories. He argued that nature could tell you something about the creator but that without divine revelation, the world seems to be sound and fury.
Butler's work was controversial in some Christian circles, but he also found a famous admirer outside of the Christian faith: the notorious skeptic David Hume. Perhaps happy that a Christian would be open to empirical investigation, Hume asked to dedicate his book to Butler. Others such as John Wesley and Philosopher Adam Smith considered themselves "Butlerians." One author has suggested that while Deism spread amongst the elite in North America, Butler (along with Wesley) was vital in the movement's death in the 18th c. England.
Today we remember Joseph Butler, priest and apologist, on the day of his death in 1752. Born in 1692, he was 60 years old.
The last word for today comes from the daily lectionary- Psalm 22 (a Psalm quoted by Jesus on the Cross):
But you, Lord, do not be far from me.
 You are my strength; come quickly to help me.

Deliver me from the sword,
 my precious life from the power of the dogs.

Rescue me from the mouth of the lions;
 save me from the horns of the wild oxen.

I will declare your name to my people;
 in the assembly I will praise you.

You who fear the Lord, praise him!
 All you descendants of Jacob, honor him!
 Revere him, all you descendants of Israel!

For he has not despised or scorned
 the suffering of the afflicted one;
he has not hidden his face from him
 but has listened to his cry for help.
This has been the Christian History Almanac for the 16th of June 2022, brought to you by 1517 at 1517.org.
The show is produced by a man who, when asked who killed English Deism, replied, "the Butler did it." He is Christopher Gillespie.
The show is written and read by a man who keeps giggling at the word "Butlerian" I am Dan van Voorhis.
You can catch us here every day- and remember that the rumors of grace, forgiveness and the redemption of all things are true…. Everything is going to be ok.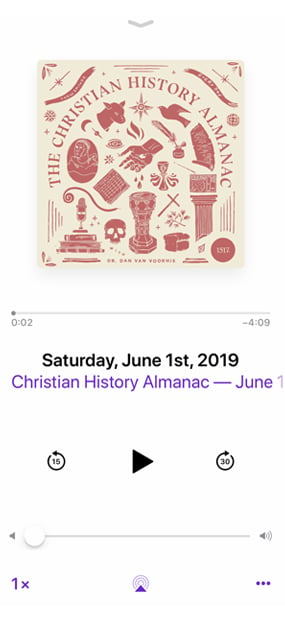 Subscribe to the Christian History Almanac

Subscribe (it's free!) in your favorite podcast app.
Apple Podcast