Wednesday, June 15, 2022
Today on the Almanac, we remember a man famous for psychoanalyzing Martin Luther.
*** This is a rough transcript of today's show ***
It is the 15th of June 2022. Welcome to the Christian History Almanac brought to you by 1517 at 1517.org; I'm Dan van Voorhis.
You don't have to listen to this show every day- I don't take roll. But, if you heard yesterday, you know that we talked about a sociologist, not standard on this show, but the work of Max Weber certainly dovetailed with the history of the church.
And today, we have a similarly adjacent intellectual- a character from the world of Freudian psychoanalysis whose career also had an essential touchpoint with the church's history.
On this the 15th of June in 1902, Erik Erikson was born in Germany. Erik was a very bright young man, excelled at his studies, and was invited to study psychoanalysis with none other than Anna Freud, the daughter of Sigmund. Erik would eventually immigrate to the US in 1933 and teach at Yale, Berkeley, and Harvard until he died in 1994. He became famous for his schematic for psychoanalyzing children through stages of development. Ok. So, exciting but not reasonably related to the history of Christianity. Until 1958, Erik Erikson, Freudian Psychologist, took on as his new patient: Martin Luther. His book "Young Man Luther" attempted to explain the motives of the 16th-century reformer through his development as a young man.
Many historians have taken on the challenges of psychohistory- this is not the place for that (my first paper in graduate school was on Luther and psychohistory) but rather to look at Erikson's claims about Luther.
Erikson brings three different events from Luther's earlier years to his psychoanalyst's couch. The first was a story about a young Luther in the choir loft as the priest read from the story of the demoniac. Luther is said to have shouted, "that is not me!". The second was the famous thunderstorm incident when a frightened Luther is said to have vowed to God to become a Monk if he was saved. And the third was Luther's "tower experience," when Luther claimed to have understood the Gospel for the first time.
One of Luther's fiercest enemies told the first story about the choir loft. This enemy was famous for making up stories about Luther to defame him. No historian takes the choir loft story seriously.
The thunderstorm is part of Luther's lore, and he told the story himself. The problem is that Erikson uses it juxtaposed with a theory about Luther's father being a domineering, abusive, drunk father. The problem is: that the sources don't do this. Erikson reverse engineered a picture of Luther's father from Luther's thoughts about God the father.
And lastly, Luther recounts that tower experience a few times- when he first understood that God wasn't mad at him and that Jesus was his righteousness. One of the accounts refers to the event happening in the "cloaca,"- which could mean bathroom. Aha! Says Erikson, who famously followed Freud into the world of trying to make sense of poop talk. In Luther's telling, it more likely meant Luther was "down in the dumps" and not literally on the toilet.
This is not to say Erik Erikson was a bad psychoanalyst. He was drawn to a few stories that may have made an exciting session if someone on his couch told him. Psychoanalyzing the dead, if not impossible, is probably more complicated than picking out three stories and establishing the motives of the tempestuous Reformer. But this book was significant for the conversation it created and the responses it provoked leading up to the 500th anniversary of Luther's birth in 1983. Today we remember the provocateur Erik Erikson's anniversary of his birth in 1902.
The last word for today comes from the daily lectionary, the Magnificat from Luke.
And Mary said:
"My soul glorifies the Lord

and my spirit rejoices in God my Savior,

for he has been mindful
 of the humble state of his servant.
From now on, all generations will call me blessed,

for the Mighty One has done great things for me—
 holy is his name.

His mercy extends to those who fear him,
 from generation to generation.

He has performed mighty deeds with his arm;
 he has scattered those who are proud in their inmost thoughts.

He has brought down rulers from their thrones
 but has lifted up the humble.

He has filled the hungry with good things
 but has sent the rich away empty.

He has helped his servant Israel,
 remembering to be merciful

to Abraham and his descendants forever,
 just as he promised our ancestors."
This has been the Christian History Almanac for the 15th of June 2022, brought to you by 1517 at 1517.org.
The show is produced by a man who knows what you get when a psychoanalyst gets a sunburn: a Pink Freud. He is Christopher Gillespie.
The show is written and read by a man who was going to make a joke about a Freudian slip but wasn't sure if you all knew that was when you say something but mean to your mother. I'm Dan van Voorhis.
You can catch us here every day- and remember that the rumors of grace, forgiveness and the redemption of all things are true…. Everything is going to be ok.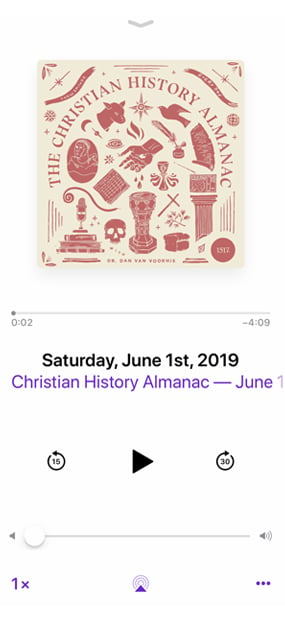 Subscribe to the Christian History Almanac

Subscribe (it's free!) in your favorite podcast app.
Apple Podcast