Monday, June 13, 2022
Today on the Almanac, we head to the mailbag to answer a question about the relationship between Martin Luther and John Calvin.
*** This is a rough transcript of today's show ***
It is the 13th of June 2022. Welcome to the Christian History Almanac brought to you by 1517 at 1517.org; I'm Dan van Voorhis.
A happy Monday to you- today's question is another pretty common question- the latest to ask a version of it was Trent from… he didn't tell me. I like spending time learning dumb stuff about where you are from, but Trent just wrote from a Gmail account with no reference to where he's from.
"Did Luther and Calvin ever meet, and if not, did they know about each other's work?"
Ah yes, the "Did Superman ever meet Batman" question for Reformation Christians. Luther lived from 1483-to 1546, while Calvin lived from 1509-to 1564. Luther was on the scene from 1517, and Calvin's "Institutes" his systematic theology was first published in 1536. So there is overlap, but Superman had Metropolis and Batman had Gotham, Luther had Wittenberg, and Calvin had Geneva. The common denominator between the two was Phillip Melanchthon- someone we've talked about on this show before. Melanchthon was a Lutheran; of course, he wrote the Augsburg Confession, but he was more concerned with a united church of the Reformation than some of his brethren.
Calvin, who had met Melanchthon, attempted to contact Luther in 1545 (one year before Luther's death). On January 20th, he sent two letters via a trusted friend from Geneva to Wittenberg, one for Melanchthon and one for Luther.
Except that they both went to Melanchthon and Calvin added a note that Melanchthon should only give Luther the letter if he thought it appropriate.
The context for the letter was a group of pastors who had asked Calvin to write to Luther about how to live amongst Catholics- the pastors thought Calvin was being a little too hardcore and thought Luther would mediate. These pastors may have had fond thoughts of Luther, but towards the end of his life, he was a cranky, depressed older man. He even admitted as much. He thought his reformation was a failure; he worried that the next generation of reformers wasn't sufficiently appreciating him. He wrote, "I am good for nothing today. I wish I were dead". (BTW, this makes him fascinating to me- he's not a systematic thinker; he gets depressed and angry. He is not a Protestant Buddha).
Melanchthon had been working with Reformers outside of Wittenberg to try and grow and consolidate the movement. Melanchthon reworked the Augsburg Confession (called the Variata), which met with Calvin's approval. But it almost exploded the Lutheran movement that saw agreement with the Calvinists as unacceptable. And this is especially when it comes to the doctrine of the Lord's Supper and how it is believed that Christ is present.
Quick primer:
Zwingli and later radical reformers would stress that the meal was a memorial.
Calvin and other second-generation Reformers stressed "spiritual" eating by faith.
Luther and the Lutherans would insist on the "real presence" of Christ "in with and under" the bread.
And recent events had made Luther incredibly cranky about these other reformation Christians he labeled "sacramentarians." So Melanchthon pocketed the letter Calvin sent to Luther and told Calvin that the august Reformer was a little cranky.
The letter itself is interesting because Calvin subordinates himself to Luther. He wrote, "to the very excellent pastor of the Christian Church, Dr. M Luther, my much-respected father." This matches other sentiments found in Calvin's letters to others in which he praises Luther suggests he can get a little cranky, and even told Bucer that if Luther called him the devil, he would still revere the man.
And Luther called Calvin's ilk "blasphemous heretics and murderers of souls, " so the respect was… not as mutual. Luther had read Calvin's debate with a Catholic Cardinal and had nice things to say about it, but that's about all the direct recognition we have of these two characters.
It gets tricky because "Calvinism" is the thought of John Calvin, whereas Lutheranism is not exclusively the thought of Martin Luther. And we could go on and on. But the question: did they meet? The answer is no. Did they almost correspond? Yes. Almost. But the division that kept Melanchthon from delivering the letter would be emblematic of a divided Reformation movement.
Thanks, Trent, from who knows where. I assign him: Boogertown, NC (a real place)
The last word for today comes from the daily lectionary from Ephesians.
11 So Christ himself gave the apostles, the prophets, the evangelists, the pastors and teachers, 12 to equip his people for works of service, so that the body of Christ may be built up 13 until we all reach unity in the faith and in the knowledge of the Son of God and become mature, attaining to the whole measure of the fullness of Christ.
14 Then we will no longer be infants, tossed back and forth by the waves, and blown here and there by every wind of teaching and by the cunning and craftiness of people in their deceitful scheming. 15 Instead, speaking the truth in love, we will grow to become in every respect the mature body of him who is the head, that is, Christ.
This has been the Christian History Almanac for the 13th of June 2022, brought to you by 1517 at 1517.org.
The show is produced by the mayor of Boogertown, Christopher Gillespie.
The show is written and read by a man who, I'll tell you- if there's one city I wouldn't pick… Dan van Voorhis.
You can catch us here every day- and remember that the rumors of grace, forgiveness and the redemption of all things are true…. Everything is going to be ok.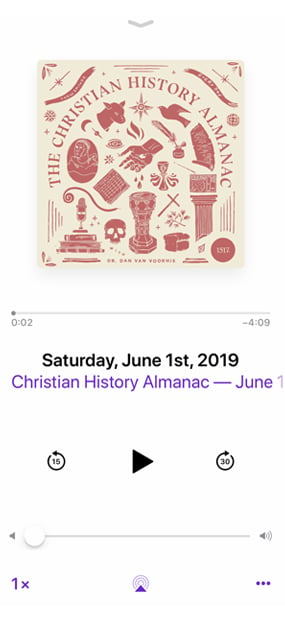 Subscribe to the Christian History Almanac

Subscribe (it's free!) in your favorite podcast app.
Apple Podcast