Wednesday, June 8, 2022
Today on the Almanac, we wish Gustavo Gutierrez a happy 94th birthday and learn about his impact on the church.
*** This is a rough transcript of today's show ***
It is the 8th of June 2022. Welcome to the Christian History Almanac brought to you by 1517 at 1517.org; I'm Dan van Voorhis.
So today, we wish a real live living person a happy birthday- perhaps a nice way to remember that objects in our historical rearview are closer than they might seem.
Gustavo Gutierrez was born on this day in 1928 in Lima, Peru. He contracted Osteomyelitis as a child and was frequently in bed, in pain, and a wheelchair. He believed that this gave him an insight into suffering- he considered becoming a medical doctor or a psychologist but was ultimately ordained as a priest in Peru under the Dominican order (remember, if you see OP next to someone's name, that means "Order of the Preachers" another name for Dominicans).
He would do post-grad studies in Belgium, France, and the Gregorian University in Rome. He received his Ph.D. from the University of Lyon in 1985. But all of this is academic… Gustavo Gutierrez is famous for his work on Christianity and the poor. Living in Peru, he witnessed extreme wealth disparity and crippling poverty.
Gutierrez believed that the Second Vatican Council invited work for the "least of these." He wondered how to tell a poor person "God loves you" without also addressing their poverty and suffering. He founded the Bartolome De Las Casas Institute in Peru, dedicated to helping the indigenous as De Las Casas (also Dominican) did in the 16th century.
Gutierrez's theology stressed what he called the "preferential treatment for the poor." He claimed that poverty was scandalous and that the Scriptures and Jesus seem to emphasize serving the poor over the kind of conspicuous wealth he claimed was too familiar in the Catholic Church.
His thought came together in the now classic 1971 "A Theology of Liberation: History Politics and Salvation." This is the foundation for Liberation Theology (probably best understood as "Liberation Theologies" to account for the broad spectrum of beliefs under that heading).
With the rise of Pope John Paul II, Gutierrez and others in his school were put under the microscope. John Paul II was an enemy of communism (he was from Poland) and saw communist and Marxist influences. John Paul II had Joseph Ratzinger open an investigation into Gutierrez and Liberation Theology (Ratzinger was the name of former Pope Benedict). The theology was not condemned, but rather Gutierrez made clear that his was a "contextualized theology" for Latin America.
Gutierrez could claim that his theology was an attempt to follow Jesus and that any parallels with Marx were coincidental. Gutierrez believed that sin was personal and social. Thus repentance involves not just amending our lives but also the political spectrum.
The history of Liberation Theology and claims of Marxism are tricky. This is partly because there is no one 'liberation theology" or "Marxist." Even Karl Marx could hardly be a Marxist under some definitions of that political ideology and the same of Gutierrez and some Liberation theologies. The story of Liberation theology moving from South to Central America and throughout the world is a fascinating story for another time- the critiques of the system are also interesting. However, today we remember a man who sought (and still seeks) justice for the "least of these." Happy Birthday to Gustavo Gutierrez, born 94 years ago today on the 8th of June in Lima, Peru.
The last word for today comes from the daily lectionary, from the book of Luke.
6 In the sixth month the angel Gabriel was sent by God to a town in Galilee called Nazareth, 27 to a virgin engaged to a man whose name was Joseph, of the house of David. The virgin's name was Mary. 28 And he came to her and said, 'Greetings, favored one! The Lord is with you.' 29 But she was much perplexed by his words and pondered what sort of greeting this might be. 30 The angel said to her, 'Do not be afraid, Mary, for you have found favor with God. 31 And now, you will conceive in your womb and bear a son, and you will name him Jesus. 32 He will be great, and will be called the Son of the Most High, and the Lord God will give to him the throne of his ancestor David. 33 He will reign over the house of Jacob for ever, and of his kingdom there will be no end.'
This has been the Christian History Almanac for the 8th of June 2022, brought to you by 1517 at 1517.org.
The show is produced by a man who knows that Lima beans are mispronounced- these beans originated in the same place Gutierrez was born and should be called "Lima Beans." He is Christopher Gillespie.
The show is written and read by a man who knows that white Lima beans are called Butterbeans and that always makes him think of that one boxer. I'm Dan van Voorhis.
You can catch us here every day- and remember that the rumors of grace, forgiveness and the redemption of all things are true…. Everything is going to be ok.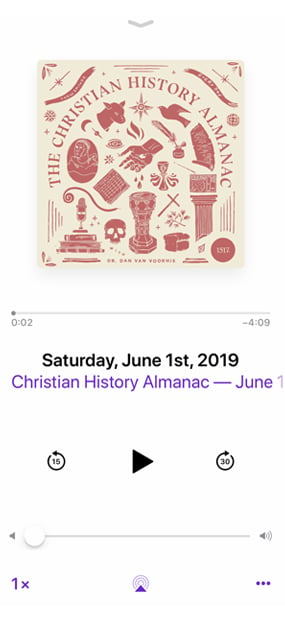 Subscribe to the Christian History Almanac

Subscribe (it's free!) in your favorite podcast app.
Apple Podcast