Monday, May 30, 2022
Today on the Almanac, we look at a few historical figures to celebrate a big day in the life of someone close to the Almanac.
*** This is a rough transcript of today's show ***
It is the 27th of May 2022. Welcome to the Christian History Almanac brought to you by 1517 at 1517.org, I'm Dan van Voorhis.
There is an entire field of study devoted to Ecclesiastical Mysteries, which sounds awesome if you're talking about secret passages and buried treasure and the like… it is also awesome, and way more prevalent if you knew that the field of Ecclesiastical Mysteries is lovingly called "nuns on the run" fiction. That's right- we are talking about mystery books written by, and starring, nuns, monks, priests, and more…
Today we will remember the eclectic life of Sister Carole Anne O'Marie- the creator of the Sister Mary Helen series. We will get to Sister Carole in a second, but first: what do so many people in religious vocations also write mysteries?
Consider G. K. Chesterton, Dorothy Sayers, Peter Tremayne, William Kienzle, and characters from Father Dowling to the Benedictine Bloodhounds.
So- why? Perhaps it's the confrontation of good and evil that resolve in the end. The detective and the cleric both try to shed light in the darkness, to get justice, etc. And they are morality tales. Bad guys get caught. Good triumphs in the end.
So it was Sister Carole Anne O'Marie who was born in San Francisco in 1933 and died on this, the 27th of May in 2009. She heard a recruiter from the church at her High School and decided to become a nun. While it shocked her family, her sister recounted that they all figured she would be kicked out in a few months.
Instead, she attends Mount St. Mary's and received her BA in 1960 and her Master's in Teaching in 1973. She would serve as a schoolteacher, principal, mother superior, newspaper editor, and according to one obituary: second-place winner of the 1979 San Francisco Cable Car Bell Ringing Contest.
Her sleuthing nun was called Sister Mary Helen, named after a former mother superior who would accompany O'Marie into slums and bars and other places she would research for her books.
She was a member of the Sisters of St. Joseph of Carondelet- a non-cloistered order that not only is non-cloistered (they live in society- not behind the walls of a convent) and they do not wear the habit (something that lets them move and serve with greater anonymity). According to the order itself, they are devoted to the "practice of all the spiritual and corporal works of mercy of which woman is capable and which will most benefit the dear neighbor."
Part of her service to this order came to fruition in 1990 with the opening of her project A Friendly Place: Drop-In Center for Homeless Women. In 1994 the store front was too crowded, and the group bought an old hotel on San Pablo and 23rd where they have 26 rooms.
In the St. James Guide to Crime and Mystery Writers, it is written 
that "Sister Carol Anne O'Marie successfully merges elements of several crime fiction traditions. Her detective, an elderly nun, combines characteristics of Father Brown and Miss Marple, and her vocation and age, along with her penchant for reading murder mysteries, are her primary distinguishing qualities"
Among the Sister Mary Helen books are the delightfully titled "Advent of Dying" "Murder makes a Pilgrimage" and "Murder in the Ordinary Time". Born in 1933 Sister Carole Anne O'Marie died on this day in 2009 at the age of 75.
The last word for today comes from Exodus:
12 Moses said to the Lord, "You have been telling me, 'Lead these people,' but you have not let me know whom you will send with me. You have said, 'I know you by name and you have found favor with me.' 13 If you are pleased with me, teach me your ways so I may know you and continue to find favor with you. Remember that this nation is your people."
14 The Lord replied, "My Presence will go with you, and I will give you rest."
15 Then Moses said to him, "If your Presence does not go with us, do not send us up from here. 16 How will anyone know that you are pleased with me and with your people unless you go with us? What else will distinguish me and your people from all the other people on the face of the earth?"
17 And the Lord said to Moses, "I will do the very thing you have asked, because I am pleased with you and I know you by name."
This has been the Christian History Almanac for the 27th of May 2022 brought to you by 1517 at 1517.org.
The show is produced by a man whose favorite Mystery book titles (all real) include A Crime of Passion Fruit, Another One Bites The Crust, Nacho Average Murder, and Seven Deadly Zins He is Christopher Gillespie.
The show is written and read by a man who loves nothing more than a good Unsolved Mysteries marathon Dan van Voorhis.
You can catch us here every day- and remember that the rumors of grace, forgiveness, and the redemption of all things are true…. Everything is going to be ok.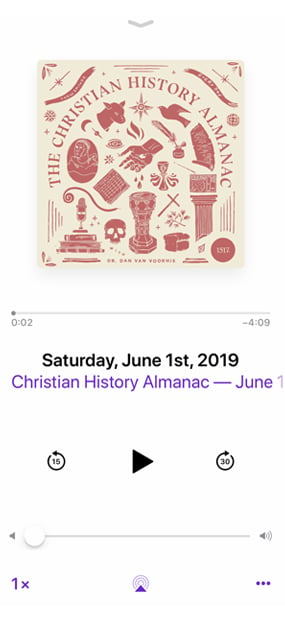 Subscribe to the Christian History Almanac

Subscribe (it's free!) in your favorite podcast app.
Apple Podcast