Tuesday, May 17, 2022
Today on the Almanac, we remember a man once described as the "P.T. Barnum of American Evangelicalism."
*** This is a rough transcript of today's show ***
It is the 17th of May 2022. Welcome to the Christian History Almanac brought to you by 1517 at 1517.org; I'm Dan van Voorhis.
On the 17th of May in 1906, Carl McIntire was born in Ypsilanti. Michigan. A Presbyterian minister and author, he would become one of the more colorful characters- perhaps even sometimes a caricature in 20th century Evangelical and Presbyterian history.
Randall Ballmer- one of the great deans of American Christian History- called McIntire "the P.T. Barnum of American Evangelicalism," which would perhaps sadden his first mentor: J. Gresham Machen of the Orthodox Presbyterian Church.

Let me remind you of that story: J. Gresham Machen was a pastor and professor at Princeton Seminary. He and others believed that the "modernists" had invaded the Presbyterian Church United States of America. One of the chief concerns was the foreign missions board which Machen and others believed to be influenced by authors who were being promoted who rejected fundamental doctrines like the virgin birth, deity of Christ, Resurrection, and others… so Machen decided to form his missions board and is booted from the denomination. This is the origin of Westminster Seminary in Philadelphia and what was then called the Presbyterian Church in America- but is now called the Orthodox Presbyterian Church.
Carl McIntyre left Princeton to be at Westminster with Machen and was on the Independent Board of Foreign Missions that got Machen in hot water.
And like a crack on a windshield- one split begets many more, and soon McIntire formed his church- the Bible Presbyterian Church. The main point of contention was the place of alcohol and apocalypticism.
McIntire argued for complete probation of alcohol and a teetotaling stance while also expanding the traditional end times teaching of the Presbyterian church.
McIntire held to the premillennial dispensational teaching of C.I. Scofield- this is the standard "Left behind" stuff seen everywhere in later 20th-century evangelicalism.
McIntire loathed the ecumenical movement- when the World Council of Churches was founded; he began his own international Council of Christian Churches. The National Association of Evangelicals was too broad for him, so he formed the American Council of Christian Churches.
This radical separatism marks the division between the Fundamentalists and the Neo-Evangelicals. The Neo-Evangelicals held to conservative theology but worked in coalitions from Christianity Today to Fuller Seminary and the Billy Graham Crusades.
McIntire eschewed these groups and spent much of his time with his independent organs- from the Christian Beacon to the 20th Century Reformation Hour. Here he mixed theology with a healthy dose of partisan politics- supporting the likes of George Wallace and Barry Goldwater. He took on a strident anti-Catholicism and made "total victory" in Vietnam a central plank of his ministry as opposed to Martin Luther King Jr.
Even his own floundering Bible Presbyterian Church- the one he founded- became too progressive for him, and he founded a church independent of that. In the 90s, the new elder board asked McIntire to retire. He refused and held Sunday services in his home for the last years of his life, dying in 2002.
I suppose I might find it easy to dunk on a character like Carl. Fundamentalists of any sort- the divisive and constantly splitting type especially (left or right) seem antithetical to the good news of Jesus and the message that he is gathering all his flock to himself… But consider his lifespan: 1907 to 2002. And it seems like he felt the need to comment on all of it- and he cut his teeth in his early years in developing an "us v them" mentality with the Princeton and denominational split.
The Last Word for today comes from the lectionary from last Sunday- it was great hearing the great EGBOK verses- here it is:
21 Then I saw "a new heaven and a new earth," for the first heaven and the first earth had passed away, and there was no longer any sea. 2 I saw the Holy City, the new Jerusalem, coming down out of heaven from God, prepared as a bride beautifully dressed for her husband. 3 And I heard a loud voice from the throne saying, "Look! God's dwelling place is now among the people, and he will dwell with them. They will be his people, and God himself will be with them and be their God. 4 'He will wipe every tear from their eyes. There will be no more death' or mourning or crying or pain, for the old order of things has passed away." 5 He who was seated on the throne said, "I am making everything new!" Then he said, "Write this down, for these words are trustworthy and true."
This has been the Christian History Almanac for the 17th of May 2022, brought to you by 1517 at 1517.org.
The show is produced by a man whose favorite PT's include Barnum, the Cruiser, and PT Flea- the character in "A Bug's Life" voiced by Cliff from Cheers. He is Christopher Gillespie.
The show is written and read by the grandson of the late Harold McIntyre, with no relation. Dan van Voorhis.
You can catch us here every day- and remember that the rumors of grace, forgiveness and the redemption of all things are true…. Everything is going to be ok.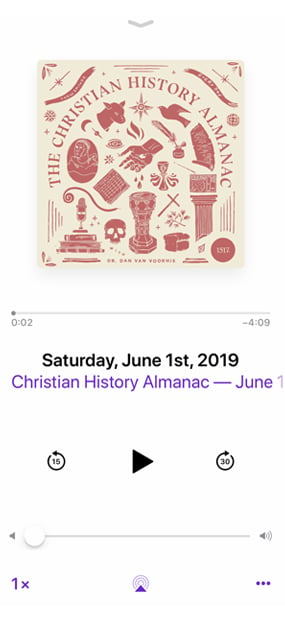 Subscribe to the Christian History Almanac

Subscribe (it's free!) in your favorite podcast app.
Apple Podcast