Friday, April 29, 2022
Today on the Almanac, we have a personal anniversary and announcement.
*** This is a rough transcript of today's show ***
It is the 29th of April 2022. Welcome to the Christian History Almanac brought to you by 1517 at 1517.org; I'm Dan van Voorhis.
Hey- it's Friday- and we have some things going on here at the Almanac-
I've got some news and notes for this the 29th of April.
First- it was on this, the 29th of April, that home of 3 became a home of 4. On this day- one decade ago- Raymond Westbrook van Voorhis was born. The man we call "El Ray," "Senor Rojo," and "Big Red" is going to be at an escape room and then having dinner with his grandma and grandpa today while I am in New York speaking at the Mockingbird Conference.
It's worth noting that his very long name (27 letters) has historical significance and church history significance. His middle name, Westbrook, is a van Voorhis family name- one of the more notable members of our family was the broadcaster Westbrook van Voorhis in the last century.
But he is called Raymond after his great Grandfather- Raymond C. Ortlund. Ray was born in Des Moines, Iowa, in 1923. During World War II, he served in the Navy- graduated with a degree in sociology from the University of Puget Sound, and then went to Princeton Theological Seminary and received his MDiv in 1950.
He was pastor at Lake Avenue Church in Pasadena from 1959 to 1979, was then pastor at Mariners Church in Newport Beach, and then, along with his wife Anne, traveled as a pastor at large to missionaries around the world.
His son Ray Jr is a pastor and author. One of his daughters, Sherry, married Walt Harrah. They had three kids, one of whom I married.
I recently heard a pastor talk about a woman he knew whose faith was so sincere and vital and warm that he said, "I want whatever she's having." This was Ray Ortlund Sr. For me giving our son his name was one of our greatest joys, watching him grow in knowledge and faith. Happy Birthday, Raymond- I'm heading back home as fast as possible.
Also- it is worth noting that I have another son- and he happens to be named after the first van Voorhis in North America and one of the founders of the First Reformed Church in what was then new Amsterdam… I might tell that story on another upcoming birthday.
OK- big news-
This weekend, the 30th of April and the 1st of May represent our last episode of season 3 and the first season of episode 4.
In the past, this is where I have made a pivot- from two stories to one, I once changed the music to the chagrin of everyone, and we've moved from poems to lectionary readings. This change in seasons will not see any significant difference- it was at episode 1,000, and we moved to the daily show with 1 Weekend Edition (I thought it would make for less work, and that is not at all the case!).
Lastly, we just reached our two millionth download in a fun bit of kismet. It took two years of the show to get to 1 million, and then almost exactly half that time for the second million. I tell you that to say thank you. I am bad at self-promotion- but you all still listen and share, and the reality is- I want the show to grow because it means that I get to keep doing it.
Next week I am taking a few days off (the travel and talking schedule after almost no travel in 2 years has me getting older. Also- 43 is feeling old these days). Sam Leanza Ortiz will be taking you through a few fun episodes of the Almanac- I'm looking forward to it and any good shots I might take from my old student and now colleague and friend.
The Last Word for today comes from the daily lectionary- Psalm 30 again, from the Common English Bible.
I cried out to you, Lord.
 I begged my Lord for mercy:
"What is to be gained by my spilled blood,
 by my going down into the pit?

Does dust thank you?
 Does it proclaim your faithfulness?

Lord, listen and have mercy on me!
 Lord, be my helper!"

You changed my mourning into dancing.
 You took off my funeral clothes
 and dressed me up in joy

so that my whole being
 might sing praises to you and never stop.

Lord, my God, I will give thanks to you forever.

This has been the Christian History Almanac for the 29th of April 2022, brought to you by 1517 at 1517.org.
The show is produced by a man who has produced every single episode of this show- a model of faithfulness and consistency- he is West Lafayette's Own Christopher Gillespie.
The show is written and read by a man who will not get my hopes up about this year's Angels…. Just kidding. Thor, Lorenzen, a new bullpen, Shohei and Trout! I'm calling it now: we will be in it in October. I'm (the ever optimistic) Dan van Voorhis.
You can catch us here every day- and remember that the rumors of grace, forgiveness and the redemption of all things are true…. Everything is going to be ok.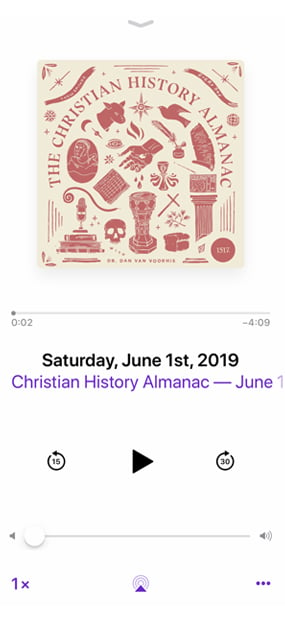 Subscribe to the Christian History Almanac

Subscribe (it's free!) in your favorite podcast app.
Apple Podcast