Monday, April 11, 2022
Today on the Almanac, we head to the mailbag to answer a question about Creeds.
*** This is a rough transcript of today's show ***
It is the 11th of April 2022. Welcome to the Christian History Almanac brought to you by 1517 at 1517.org; I'm Dan van Voorhis.
Chris from Sanford, Florida-
Ooh, I love the story of Sanford. I also love when something sounds close to something else- there should definitely be a University of Sanford. There is a Samford. I would go to one of those colleges and make it sound like Stanford.
I also thought it would be funny if my initials were D.R. because then I would be a "Dr"… friends; it took me some time to remember that my initials are DR.
One more thing- Sanford wasn't from Florida- he encouraged the growth of the town with Swedish settlers, and his wife said of Florida, "a vampire that... sucked the repose & the beauty & the dignity & cheerfulness out of our lives."
But Chris… you had a question about saying Creeds in church. Should we, and if we should, which ones?
So while I grew up church adjacent, I was never a member and really jumped from youth groups where I had friends. I had no reason to attend "big church,"- but when I did, and everyone started reciting stuff together in the same monotone intonation, I was spooked.
The recitation of creeds goes back far- Old Testament far- Moses far… remember "Hear O Israel the Lord Your God is One" from Deuteronomy? This "Shema" is the traditional Jewish call to worship.
The New Testament also has creedal statements that seem to have been passed down and recited (of course, pre-book and with low literacy, this was a necessary teaching tool).
In the NT, we have "For what I received I passed on to you as of first importance: that Christ died for our sins according to the Scriptures, that he was buried, that he was raised on the third day according to the Scriptures" and
"Who, being in very nature God, did not consider equality with God something to be grasped, but made himself nothing, taking the very nature of a servant,"
Historically the church has held a special place for a few specific creeds- the Apostles didn't write the "Apostles" Creed to our knowledge. Still, around the 2nd and 3rd centuries, this rule for belief was laid down and repeated in a pretty consistent form ever since.
The Nicene Creed comes from the Council of Nicaea, sort of… the original one did. You probably say the Nicene-Constantinopolitan creed if you are a Christian in the West (the little fiddling done in 381 would lead to the East-West Schism in 1054- and it's a bit more complicated than that- but the idea in the amended text is that the Holy Spirit proceeds from the Father and the Son while the original stated the Spirit proceeded from the Father alone. The addition of "and the son" or "filioque" in Latin was part of the later breach)
The Athanasian Creed was not written but Athanasius- but it was a creed that reflected a growing consensus in the west about Christology and is read in many churches on Trinity Sunday. It is long.
Every church has a liturgy- some are more formal than others- but we all have a way of doing what we do on Sunday morning- in the community. Check out this past weekend's show for a deeper dive into early worship in the Christian church.
But whatever the liturgy (traditional, formal, informal, etc…), Christianity has a special place for remembering, reenacting, and proclaiming. We worship on Resurrection day- we recreate and remember and are folded into the drama of 2000 years ago. We are proclaimed innocent (among other things)- we respond in song, in offering… all in communion.
Chris asked if I would favor a newer creed. Maybe? Maybe not? I'm not connected to the creeds because they have the greatest and best theology- all of our churches supplement the Creeds because we have questions that the Creeds don't answer. But I think we should attempt to conserve practices that can unite the terrestrial and celestial churches over space and time in a faith as ancient as ours.
The Last Word for today comes for this the Monday of Holy Week (for those of us on the Gregorian calendar)
9:14 how much more will the blood of Christ, who through the eternal Spirit offered himself without blemish to God, purify our conscience from dead works to worship the living God!
9:15 For this reason he is the mediator of a new covenant, so that those who are called may receive the promised eternal inheritance, because a death has occurred that redeems them from the transgressions under the first covenant.
This has been the Christian History Almanac for the 11th of April 2022, brought to you by 1517 at 1517.org.
The show is produced by a man whose favorite Creeds include Apollo, Bratton, and Scott Steps Band. He is Christopher Gillespie.
The show is written and read by a man who could have loved Creed Humphrey, but we passed on him and got Tutu Atwell. That might sting for a while. I'm Dan van Voorhis.
You can catch us here every day- and remember that the rumors of grace, forgiveness and the redemption of all things are true…. Everything is going to be ok.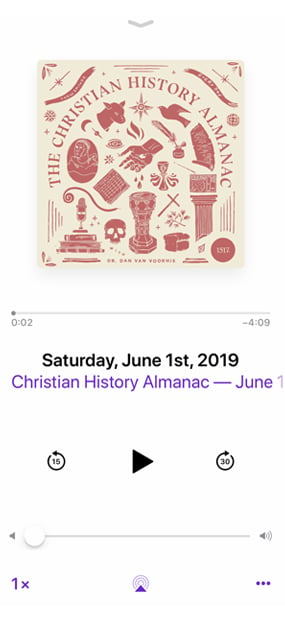 Subscribe to the Christian History Almanac

Subscribe (it's free!) in your favorite podcast app.
Apple Podcast