Monday, March 28, 2022
Today on the Almanac, we have a rapid-fire mailbag Monday.
*** This is a rough transcript of today's show ***

It is the 28th of March 2022. Welcome to the Christian History Almanac brought to you by 1517 at 1517.org; I'm Dan van Voorhis.
Since the weekend edition began in January, I have been getting lovely messages, queries, and corrections…. Let's see what we can get through.
First- Caleb with the Vineyard USA wrote to me to clarify John Wimber's relationship with Lonnie Frisbee.
He wrote: "John and Lonnie re-established a friendly relationship sometime around 1990. At John's direction, Vineyard Ministries International also funded Lonnie's apartment, car, and caregiver until he died — as well as providing Lonnie with a small stipend. None of this was at all contractual. It was entirely based on John Wimber's conviction that Lonnie had contributed a lot to the Church, and thus should be supported by the Church."
Eric wrote that the Lonnie Frisbee story should be a movie… I agree, and from your lips to God's ears- Kelsey Grammar is playing Chuck Smith, and the actor who plays Jesus in "The Chosen" plays Lonnie Frisbee- it is currently in pre-production- the directors are John Erwin and Jon Gunn. Erwin directed American Underdog- the story of Kurt Warner and the Rams, and I have many thoughts about why I haven't yet seen the movie.
Many good emails and recommendations came in from the movie Weekend Edition- a few listeners posted me to Babette's Feast. A long time ago, some dude whom I thought, at the time, was super pretentious was into this movie, and so I stayed away. I didn't know it was about Lutheran pietism and eating and is just about as delightful a movie as I could watch.
Pietism and its English-speaking cousin "puritanism" are two of the first topics that drew me into the history of Christianity, and I'll be incorporating some of the issues with these groups into some upcoming weekend editions shows.
Speaking of upcoming shows- I help produce a seasonal show here at 1517 called the Soul of Christianity. Season 4 is coming at the end of April- Debi Winrich has interviewed several smart folks on challenging questions about the Christian faith. She has interviewed a couple of fascinating people with personal stories about coming to trust in Jesus.
I have received questions on a few occasions about statues- I made a throw-away comment the other day about not putting up a statue for William Jennings Bryan, and there is a statue of him, and so would I be for taking it down and my answer is…. I am not a Laker fan, but it's OK that the Lakers want to put a statue of Kobe in front of the crypto arena at some point (and I'm thrilled my beloved Clippers are finally getting their place). Statues seem fine; idols do not. Let the people decide.
And if I were to ask you what questions I am most asked about- I would easily say that it is recommendations- books, churches, ideas… and to be honest, I struggle giving out specific advice over a medium like this and to the thousands of daily listeners. I'm trying to be careful how I speak about the kinds of Christians I disagree with- I've not always been the best at it, and I want to respect the consciences of people I may disagree with. But I do find these conversations helpful, sometimes, in person.
Now that restrictions are loosening, I am very keen to get out on the road and chat with you all. One of the great things about working for 1517 is an apparatus in place to get me- and our other teachers- out on the road. At 1517.org, you can find the "request a speaker" page, and then Lana and the team make everything happen.
Please email me with your questions, topics, favorite recipes, sports betting tips for recreational purposes only, and topics to cover on the weekend edition or the regular show. danv@1517.org seems the most trustworthy place these days.
Back tomorrow with a show… I think about Hawaii?
The Last Word for today comes from Psalm 62:
Yes, my soul, find rest in God;
 my hope comes from him.

Indeed he is my rock and my salvation;
 he is my fortress, I will not be shaken.

My salvation and my honor depend on God;
 he is my mighty rock, my refuge.

Trust in him at all times, you people;
 pour out your hearts to him,
 for God is our refuge.
This has been the Christian History Almanac for the 28th of March 2022 brought to you by 1517 at 1517.org.
The show is produced by a man whose Purdue Boilermakers had a valiant run, but unless you went to Purdue or are from West Lafayette, I think you probably were rooting for those St. Peter's Peacocks. He is Christoper Gillespie.
The show is written and read by a man who expects Mike Trout and Aaron Donald to have the first statues at the stadiums where he hangs out. I am Dan van Voorhis.
You can catch us here every day- and remember that the rumors of grace, forgiveness and the redemption of all things are true…. Everything is going to be ok.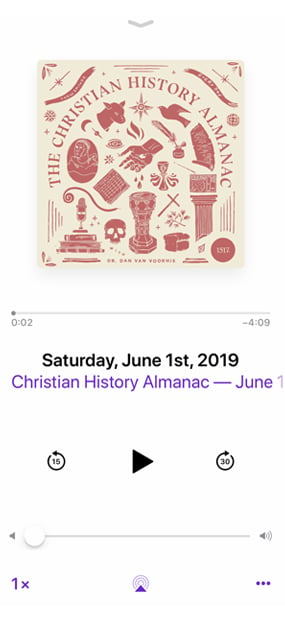 Subscribe to the Christian History Almanac

Subscribe (it's free!) in your favorite podcast app.
Apple Podcast