Thursday, March 24, 2022
Today on the Almanac, we remember the Ukrainian Christian existentialist Nikolai Berdyaev.
*** This is a rough transcript of today's show ***
It is the 24th of March 2022. Welcome to the Christian History Almanac brought to you by 1517 at 1517.org; I'm Dan van Voorhis.
Today I am going to tell you the story of a remarkable Ukrainian philosopher and theologian who lived from 1874 to 1948, Nikolai Berdyaev- a remarkable time to live in Ukraine, Russia, and the Soviet Union (his hometown near Kyiv could be labeled as any of these things during his lifetime).
Those years also put him as an eyewitness to the end of the Tsar, the Russian Revolutions, and both World Wars, and he wrote over 400 books and articles in his career as a critic of Soviet communism and Christian in the vein of Soren Kierkegaard; that is, as a Christian existentialist.
"Christian existentialism" seems like a topic you would talk about if you wanted to sound smart… it can sound pretentious, but hear me out. "Existentialism" is simply a philosophy that centers human existence- not in the abstract but in the very concrete self that is conscious and capable of making decisions. The key to understanding the universe doesn't start "out there" but with the real problems that face you- the individual!
And Berdyaev saw plenty of problems in his day. The decline of the Russian Empire in The 19th century was a significant blow not just to imperial designs but also for the Russian Church entwined with the Tsar.
By the time Berdyaev was a student at Kyiv University in 1899, he was a Marxist who believed the Tsar needed to be overthrown. His mother was a Christian, his father was a skeptic, and his views were closer to his father's early in life. He was arrested for demonstrations at college and sent into exile.
During this time, he traveled through Germany and came back in 1907. Then he wrote that "by intricate and torturous ways I have come to faith in Christ and His Church."
In 1913 he wrote a scathing attack on the church for using armed force to remove a group of monks from Mt. Athos. He was arrested and would have likely been sent to Siberia, but his lawyer was able to prolong the trial into 1917 when the Revolution made the arrest moot.
He was made a professor of Philosophy at the University of Moscow in 1920 but was soon at odds with the party leaders who insisted on communism married to atheism.
He would be outspoken and again arrested- this time by the Revolutionaries. His interrogation was recounted by Alexander Solzhenitsyn in the Gulag Archipelago. Berdyaev was exiled to Germany in 1922, moved to France in 1923, and lived there until his death OTD (or yesterday?) in 1948.
His writing critiqued Soviet-style communism and put forth a theology that critiqued all human endeavors disconnected from Christ and the Spirit.
Berdyaev lost his early faith in the revolutionary spirit- he wrote that all revolutions are a payment of past debts- a "sign that creative spiritual forces were wanting" Thus, he writes, "we cannot expect Revolution to produce the new man."
He worried about mechanized and overly formal thought- not only in the Slavic world but also in the West he inhabited for the last 25 years.
In this way, he is like Alexander Solzhenitsyn, who was an exile in the United States and would criticize Soviet atheism but also western commercialism and legalism.
Like Kierkegaard, he is challenging to pin down because he opposes rationalization and gives credit to the creative acts of people indwelled with the Holy Spirit. The human conundrum, Berdyaev taught, is only solved with creative acts as we are created in the creator's image.
If the works of Kierkegaard and Solzhenitsyn are of interest to you, check out Berdyaev.com- an excellent repository of the works of this often-overlooked Christian existentialist who was born in 1874 and died on this the 24th of October in 1948 (or the 23rd- the use of both dates across sources was maddening).
The Last Word for today comes from James 2:
16 Don't be deceived, my dear brothers and sisters. 17 Every good and perfect gift is from above, coming down from the Father of the heavenly lights, who does not change like shifting shadows. 18 He chose to give us birth through the word of truth, that we might be a kind of firstfruits of all he created.
This has been the Christian History Almanac for the 24th of March 2022 brought to you by 1517 at 1517.org.
The show is produced by a man who loves Kyivan, especially the butter stuffed chicken. He is Christopher Gillespie.
The show is written and read by a man who will remind you that since the fall of the Soviet Union, Ukrainians have preferred the pronunciation of their capital in Ukrainian as Kyiv instead of the Russian accent of "Kiev." I'm Dan van Voorhis.
You can catch us here every day- and remember that the rumors of grace, forgiveness and the redemption of all things are true…. Everything is going to be ok.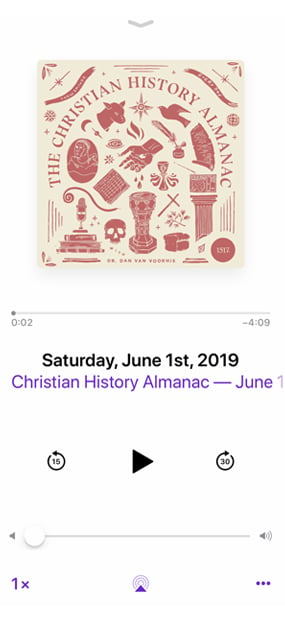 Subscribe to the Christian History Almanac

Subscribe (it's free!) in your favorite podcast app.
Apple Podcast