Monday, March 14, 2022
Today on the Almanac, we go to the mailbag to answer a question about Cults.
*** This is a rough transcript of today's show ***
It is the 14th of March 2022. Welcome to the Christian History Almanac brought to you by 1517 at 1517.org; I'm Dan van Voorhis.
Time to go to the mailbag- Brian in Redding, CA, asked a variation of a question I get from time to time about cults- sometimes referred to as "New Religious Movements. Also, no one likes to be called a cult or "new religious movement."
He asks, "how do you decide when something is a cult instead of a just a church that might be a little strange."
This is a great question, Brian from Redding- you know of course that Redding was home to Kathleen Kennedy, one of the most famous film producers of our time (from ET to the new Star Wars!) also, Redding is the home of Bethel School of Supernatural Ministry.
Ok- "what's a cult?" When I was young, I was a youth group-hopper. Whatever church a friend was going to, whatever church invited me on their retreat- I could list a bunch of them. They were charismatic, nondenominational, presbyterian, Baptist… you know what all the youth groups had in common? A fascination with Cults- they seem really scared that we kids were going to walk into a cult (and maybe some do, but it seems disproportionate- instead of spooking kids about Mormons or some such, teach the apostles creed- but I digress…)
Sociologists and theologians have given us a bunch of templates and grids- all helpful- but none universally used. Let me give you two thoughts:
First: words usually mean what the people are saying them want them to mean. When someone says "cult," they often mean "outside the boundaries of orthodoxy," and when they say "sect," they often mean "kinda like us, but weirder."
Walter Martin, a Christian apologist in the last century, wrote a popular book called "Kingdom of the Cults"- in this encyclopedia of sectarian or heretical church bodies, he wrote:
"By the term cult, I mean nothing derogatory to any group so classified. A cult, as I define it, is any religious group which differs significantly in one or more respects as to belief or practice from those religious groups which are regarded as the normative expressions of religion in our total culture."
"Normative" and in our "total culture" make this a problematic definition from a historical perspective- and at least it makes "cult" a relative term.
Cult, of course, isn't a term used in church history to denote an errant religious body- but rather "a system of religious veneration and devotion directed toward a particular figure or object."- The "cult of Mary" or the "cult of the True Cross" were almost like denominational divisions today "oh, you're a Christian, but the kind that focuses more on ____."
Historically, I think we do better using "sect" and "heresy"- closer to what the early church did. The early church took its basic creeds- and decided if a group's teaching were compatible with it- is Jesus both God and man? What are the relationships within the Godhead, and how has that worked for "us and for our salvation"? If you aren't a heretic, you might be sectarian (when you require other certain beliefs or actions).
If I use this today- and use a Nicene Christology, I could say that by definition Seventh Day Adventists are sectarian, and Mormons are heretical.
It's not an easy definition- and please, please, please be careful designating people as heretics- quick labels are usually lousy.
One note that I keep forgetting to make: As the world is getting back to normal, I will be speaking in April at the 1517 conference in North West Arkansas- check out the website for info- and then I will be in New York City the following week speaking at the Mockingbird conference- you can check that out at MBird.com.
The Last word for today comes from the book of Ephesians.
14 For this reason, I kneel before the Father, 15 from whom every family in heaven and on earth derives its name. 16 I pray that out of his glorious riches he may strengthen you with power through his Spirit in your inner being, 17 so that Christ may dwell in your hearts through faith. And I pray that you, being rooted and established in love, 18 may have power, together with all the Lord's holy people, to grasp how wide and long and high and deep is the love of Christ, 19 and to know this love that surpasses knowledge—that you may be filled to the measure of all the fullness of God.
This has been the Christian History Almanac for the 14th of March 2022 brought to you by 1517 at 1517.org.
The show is produced by a man whose favorite cults include the cult of John Frum, the order of the Solar Temple, and the Freedomites- he is Christopher Gillespie.
The show is written and read by a man who would never want to join a cult that would have him as a member- I am Dan van Voorhis.
You can catch us here every day- and remember that the rumors of grace, forgiveness and the redemption of all things are true…. Everything is going to be ok.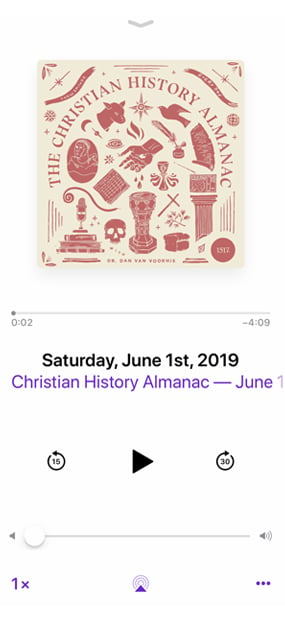 Subscribe to the Christian History Almanac

Subscribe (it's free!) in your favorite podcast app.
Apple Podcast