Wednesday, December 8, 2021
Today on the Almanac we remember the founding of St. Rose's Free Home for Incurable Cancer in 1900.
*** This is a rough transcript of today's show ***
It is the 8th of December 2021. Welcome to the Christian History Almanac brought to you by 1517 at 1517.org; I'm Dan van Voorhis.
Let me start today by admitting something to you: it is sometimes easy to get cynical when you deal with the history of humans. Even (and sometimes especially) when these humans are getting together to do violent, mean, or hateful things in the name of God. And sometimes, as I'm reading, I am given the small grace of coming across a story which, while not perfect, reminds me that God does love his creation through the work of his creatures. Today we have such a story.
We begin with Nathaniel Hawthorne- you might remember him as the author of The Scarlet Letter- a damning indictment of elements of New England Puritanism. Hawthorne's family traced its lineage to Plymouth Rock and the first English settlers. But this story is not about him. Like many 19th century Americans, he had turned from an ossified Puritanism to Unitarianism and Transcendentalism. He would have three children with his wife Sophia- today's story is about the faith and service of their third child, Rose.
Rose was born in 1851 in New England and moved to old England with her family as a child. The family moved back to New England in the 1860s, where Nathaniel died in 1864. His widow and three children moved to Dresden, Germany, and then to England. Rose's mother would die there, and she met George Lathrop, whom she would marry in 1871 at 20. Her siblings and aunts warned against marrying George, but the two seemed happy enough as they expected their first child and secured a loan to purchase the old family house back in Massachusetts.
They were blessed with a baby boy in 1876 but heartbroken when baby Francis died before reaching the age of 5. Rose and George became active in the Catholic Church, a shocker in Puritan New England. But the real shock was the abandonment of unitarian transcendentalism in favor of the Catholic faith of the old world.
Unfortunately, George seems to have never recovered from the loss of their son and became less reliable and violent. Rose asked permission from her priest to live apart from George from 1895- it was granted. George died in the next few years, and Rose had a crisis of calling. She heard her priest tell a story about a poor seamstress who had cancer and was unable to afford treatment was sent to Blackwell Island amongst criminals to die a pauper's death. Rose would later write: "A fire was then lighted in my heart, where it still burns. . . I set my whole being to endeavor to bring consolation to the cancerous poor.".
At 45, she entered a nurses training course in New York City. She rented a room on the destitute lower East Side and began to minister to the cancerous- whom many believed at the time to be contagious. She soon rented several rooms and moved patients into them. Her story came to the attention of Alice Huber, the daughter of a Kentucky physician. Huber decided to move to New York to work with Rose. By 1899 the two were treating as many as 15 poor cancerous women with the encouragement of Rose's priest, who suggested that the two become Dominican Tertiaries. [Quick reminder: Dominicans are a mendicant order of monks, which means they take vows of poverty. A Tertiary is the "3rd order"- not monks or nuns in the traditional sense, but people with a religious vocation who work under a religious order's auspices].
On this, the 8th of December in 1900, the work of Hawthorne and Huber would be officially recognized- the Catholic Church recognized the women as lay Dominicans and their ministry as "St Rose's Free Home for Incurable Cancer." They took no payment and no insurance. They would live and operate off the kindness of donors.
And this is where I perhaps lose some of my cynicism- even though I do not belong to the same "group" as these women, I can not be touched by what they believed their response to the Gospel should be. Just as God has condescended in Jesus to take on the poor, sick, and incurable- these women felt their response to the Gospel should look like that too; their motto: No one dies afraid, no one dies alone.
Today we celebrate the 121st birthday of St Rose's Free Home for Incurable Cancer which today is run by the Dominican Sisters of Hawthorne- named after Rose Hawthorne.
The last word for today comes from the book of Revelation- the 21st chapter:
3 And I heard a loud voice from the throne saying, "Look! God's dwelling place is now among the people, and he will dwell with them. They will be his people, and God himself will be with them and be their God. 4 'He will wipe every tear from their eyes. There will be no more death nor mourning or crying or pain, for the old order of things has passed away."
5 He seated on the throne said, "I am making everything new!" Then he said, "Write this down, for these words are trustworthy and true."
6 He said to me: "It is done. I am the Alpha and the Omega, the Beginning and the End. To the thirsty, I will give water without cost from the spring of the water of life.
This has been the Christian History Almanac for the 8th of December 2021 brought to you by 1517 at 1517.org.
The show is produced by a man whose favorite Rose's include Hawthorne, Betty White's Character on the Golden Girls, and the South Korean boy band "The Rose" Christoper Gillespie.
The show is written and read by a man who reminds you that every rose has its thorn, every night has its dawn, and every cowboy sings a sad, sad song. I am Dan van Voorhis.
You can catch us here every day- and remember that the rumors of grace, forgiveness and the redemption of all things are true…. Everything is going to be ok.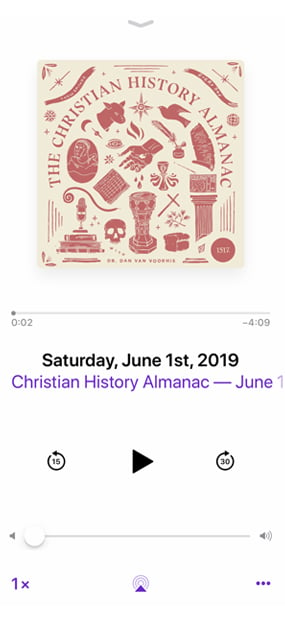 Subscribe to the Christian History Almanac

Subscribe (it's free!) in your favorite podcast app.
Apple Podcast