Wednesday, August 4, 2021
Today on the Almanac, we remember the patron saint of priests, St. John Vianney.
It is the 4th of August 2021. Welcome to the Christian History Almanac brought to you by 1517 at 1517.org, I'm Dan van Voorhis.
Today on the show we remember St. John Baptiste Marie Vianney- the patron saint of all parish priests who died on this, the 4th of August in 1859 in his native France.
A quick question: how do you listen to a story about someone in the history of the church who is outside the boundaries of your particular tradition? Perhaps this would be helpful if you are not in fact a Catholic Priest.
Early Life
- John Baptiste Marie Vianney was born to devout Catholic parents in 1786.
-The persecution of the Catholic Church led his family to seek out secret Masses being held by outlaw priests.
-His admiration for these priests led him to eventually train for the ministry.
Education
-On account of the Revolution he had no formal (and little informal) education. After Napoleon took control he reinstated the right for Catholics to worship.
-He was a terrible student. Terrible. A modern commentator called him possibly the "dumbest of all seminarians" (Dumb was his word!)
-While Napoleon allowed Catholics to worship, he repealed protection for seminarians for the draft.
-A number of very colorful if not embellished stories are told about how Vianney kept getting mixed up or lost on his way to join his draft class. Eventually, he happens (?) upon a group of dissenters. They formed a hidden enclave at an allies farm. Here Vianney opened an informal school for the children in the community while under an alias.
Ars
-After Napoleon gave amnesty to the dissenters and Vianney went back to seminary
-He was almost sent home, but a priest urged the school to change their mind on account of Vianney's great personal holiness.
-Upon graduating he was sent to a small town, Ars. It was notorious for its taverns, gaming, drinking, etc…
Confession and reconciliation
-What happened in the city of Ars is a story straight out of the British and American Great Awakenings. The town reforms, rallies around their devout and long-suffering priest.
-The key to this was his dedication to the sacrament of penance and reconciliation (what you might know as "going to confession").
-Possibly exaggerated reports claim that thousands would come to the small church at Ars to have Vianney hear their confession. Reports claimed that people would wait days in line while Vianney would spend up to 18 hours a day hearing confessions.
-But it wasn't like Catholic confession in the movies. You can think of it as almost a kind of "spiritual counseling".
-His popularity lead to him being known colloquially as the Cure d' Ars (the Pastor of Ars).
-Despite running away numerous times he stayed at Ars his life, dying on the 4th of August in 1859.
- John Baptiste Marie Vianney was canonized in 1925 and in 1929 he was named the Patron saint of all parish pastors. Not bad for the guy called "the dumbest of all seminarians".
The last word for today comes from Jesus in the Gospel of Matthew:
18 Truly I tell you, whatever you bind on earth will be bound in heaven, and whatever you loose on earth will be loosed in heaven. 19 Again, truly I tell you, if two of you agree on earth about anything you ask, it will be done for you by my Father in heaven. 20 For where two or three are gathered in my name, I am there among them."
This has been the Christian History Almanac for the 4th of August 2021 brought to you by 1517 at 1517.org.
The show is produced by Christopher Gillespie, who I have on good authority was not the dumbest seminarian.
The show is written and read by Dan van Voorhis.
You can catch us here every day- and remember that the rumors of grace, forgiveness, and the redemption of all things are true…. Everything is going to be ok.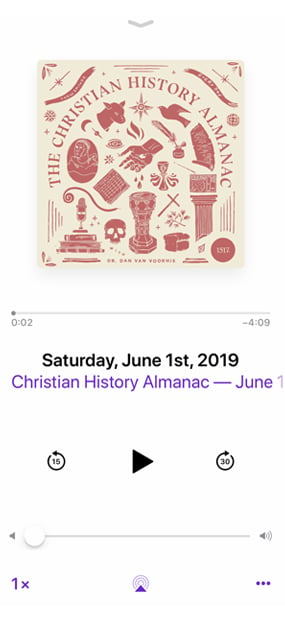 Subscribe to the Christian History Almanac

Subscribe (it's free!) in your favorite podcast app.
Apple Podcast