Saturday, June 26, 2021
Today on the Almanac, we add another member to the Dr. Gene Scott All-Stars: Founder of the Pillar of Fire Church, Alma B. White.
*** This is a rough transcript of today's show ***
It is the 26th of June 2021 Welcome to the Christian History Almanac brought to you by 1517 at 1517.org, I'm Dan van Voorhis.
Alma B White- the newest member of the Dr. Gene Scott All-Stars- died on the 26th of June in 1946.
Founder of the Pillar of Fire church
Methodist Pentecostal Union Church
But anti-Pentecostal
Methodist in the "Holiness tradition"
First female bishop in America
A proponent of Feminism (Feminism for me, but not for thee?)
But her vision of the "Roaring Twenties" was not what you may have seen in the movies.
Seeing a world in disarray after WWI
Fearful of Immigration
Fearful of predatory capitalism (see prohibitionism)
And this made her the perfect combination to help with….
Christianizing the KKK
What kind of association? Quite strong:
Books: The Ku Klux Klan and Prophecy, Klansmen: Guardians of Liberty, and Heroes of the Fiery Cross
Sermon: America: the White Man's Heritage (Anti-Catholic, Anti-Semitic)
Trolling Sister Aimee
Like Sister Aimee of the Angelus Temple, Bishop White had her own cottage industry with schools, radio stations, etc… the two were linked in the media and after Sister Aimee faked her own kidnapping in order to spend a drug-fueled holiday with the radio station manager Bishop White traveled to England where Sister Aimee was putting on a revival. Alma berated her from the audience with questions about her affairs, drugs, and kidnapping.
This is one of the most surreal single moments in Church history (at least for me) and maybe we leave this shocking and rather terrible story end here. Oh, Alma. Born in 1862 she died on the 26th of June in 1946.
The last word for today is a good word for all of us, even for the scoundrels like Alma B White.
39 One of the criminals who were hanged there kept deriding him and saying, "Are you not the Messiah? Save yourself and us!" 40 But the other rebuked him, saying, "Do you not fear God, since you are under the same sentence of condemnation? 41 And we indeed have been condemned justly, for we are getting what we deserve for our deeds, but this man has done nothing wrong." 42 Then he said, "Jesus, remember me when you come into your kingdom." 43 He replied, "Truly I tell you, today you will be with me in Paradise."
This has been the Christian History Almanac for the 26th of June 2021 brought to you by 1517 at 1517.org.
The show is produced by another self-appointed bishop, the Bishop of Random Lake, WI, Christopher Gillespie.
The show is written and read by Dan van Voorhis.
You can catch us here every day- and remember that the rumors of grace, forgiveness, and the redemption of all things are true…. Everything is going to be ok.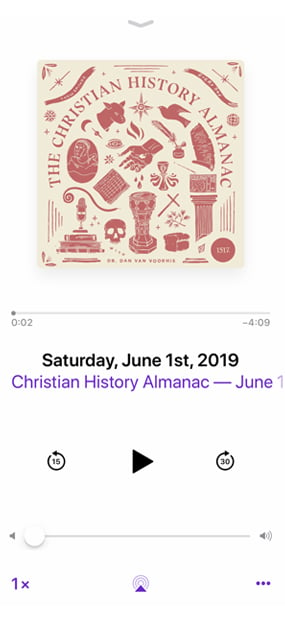 Subscribe to the Christian History Almanac

Subscribe (it's free!) in your favorite podcast app.
Apple Podcast