Friday, May 21, 2021
Today on the Almanac, we remember the day the world was supposed to end according to Harold Camping. #OTD #1517 #churchhistory
*** Notes for Today's Show ***
It is the 21st of May 2021. Welcome to the Christian History Almanac brought to you by 1517 at 1517.org. I'm Dan van Voorhis.
Nickel Creek:
"Sinner, heed these words of mine
'Bout the coming Judgment Day.
Yes, the end is drawing nigh.
Hallelujah, the 21st of May"
Off their 2014 album "The Dotted Line," this is a song about Harold Camping! Who?
The retired civil engineer turned apocalyptic Christian radio host and the newest inductee to the Dr. Gene Scott Hall of Fame. It was on the 21st of May in 2011 that Harold Camping.
Associates claimed that he made at least 10 precise predictions from 1994 up through May of 2011 and then his amended prediction for October of 2011.
Spent more than $100 million dollars on Billboards, RVs.
His immediate response: "It has been a really tough weekend,". For his followers that lost their savings and even one who took his life it was more than just a "tough weekend".
Later in 2012, he responded again by saying that he had been incorrect and sinful.
He died the following year amidst the dissolution of his ministry.
What can we earn from this?
Is there a historic position on the end times?
"He will come again to judge the living and the dead."
It has always happened, and will likely always happen.
At the end of every century and millennia, in response to natural disasters, political events, etc… it involves con men, pranksters, and sincerely mislead believers.
Don't use shifting calendars or geopolitical headlines to make predictions.
He believed Jesus died on April 1, 33 AD, exactly 1978 years before April 1, 2011, and when you multiply that by the days in a solar year.
The creation of the modern state of Israel is not foreseen in the Bible, nor does it have a particular bearing on the second coming.
Don't deny that Christianity is apocalyptic
See Daniel, Ezekiel, Jesus (Matthew 24!), Paul, etc.
We are people of two advents!
Don't lose the Gospel forest for the apocalyptic trees
"But concerning that day and hour no one knows, not even the angels of heaven, nor the Son, but the Father only."
The 21st of May in 2011 came and went. Camping and his ministry dissipated into the ether but the Word of God has remained.
The Last Word for today comes from 1 John chapter 4:
7 Beloved, let us love one another; for love is of God, and he who loves is born of God and knows God. 8 He who does not love does not know God; for God is love. 9 In this the love of God was made manifest among us, that God sent his only Son into the world, so that we might live through him. 10 In this is love, not that we loved God but that he loved us and sent his Son to be the expiation for our sins. 11 Beloved, if God so loved us, we also ought to love one another.
This has been the Christian History Almanac for the 21st of May 2021 brought to you by 1517 at 1517.org.
The show is produced by a man who has read all the Left Behind books and decoded their secrets, Christopher Gillespie.
The show is written and read by Dan van Voorhis.
You can catch us here every day- and remember that the rumors of grace, forgiveness, and the redemption of all things are true…. Everything is going to be ok.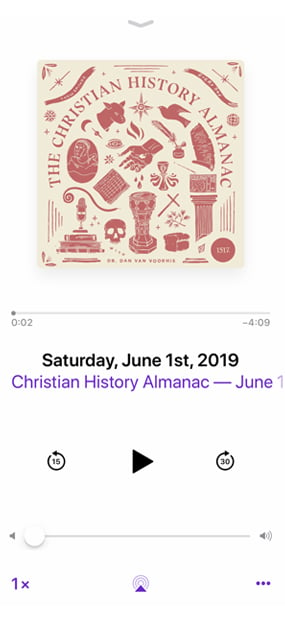 Subscribe to the Christian History Almanac

Subscribe (it's free!) in your favorite podcast app.
Apple Podcast