Tuesday, May 18, 2021
Today on the Almanac, we remember the Edict of Milan in 313 and its significance for the church today. #OTD #1517 #churchhistory
*** Notes for Today's Show ***
It is the 18th of May 2021. Welcome to the Christian History Almanac brought to you by 1517 at 1517.org. I'm Dan van Voorhis.
Today is the 1,708th anniversary of the Edict of Milan which was announced on the 18th of May in the year 313. This has become a totemic moment for historians tracing the establishment of the Christian Church in the Roman Empire. And there is some truth to that, but it needs a little teasing out.
Context:
Diocletian Persecution- active persecution of Christians on account of them being Christians. This continued under Galerius until he released that the persecution was back firing.
311- Edict of Serdica- Christianity as "legal religion"
Constantine v. Licinius
313- Edict of Milan
"Our purpose is to grant both to the Christians and to all others full authority to follow whatever worship each person has desired."
Licinius reneges
Chaos results
Eventually, Council of Nicea is called by Constantine in 325
What made Christianity the "official religion"? The Edict of Thessalonica- Romans must observe Catholic Christianity or face both divine and temporal punishment
We remember this epic edict, or series of epic edicts which forever bound the church to the empire.
Questions to ponder:
What can a persecuted church do that an established or powerful church can't?
What was the trade Christians made for recognition and authority? Was it worth it? Are there modern parallels?
In what way was the Catholic Church then an extension of the Roman Empire- even after the fall of the western empire in the 5th century?
The last word comes from the epistle to the Philippians chapter 2:
Let each of you look not to your own interests, but to the interests of others. 5 Let the same mind be in you that was in Christ Jesus, who, though he was in the form of God, did not regard equality with God as something to be exploited, but emptied himself, taking the form of a slave, being born in human likeness. And being found in human form, he humbled himself and became obedient to the point of death— even death on a cross.
This has been the Christian History Almanac for the 18th of May 2021 brought to you by 1517 at 1517.org.
The show is produced by a man whose favorite Milanese exports include the Edict, St. Ambrose, and the Pepperidge Farms cookie. He is Christopher Gillespie.
The show is written and read by Dan van Voorhis.
You can catch us here every day- and remember that the rumors of grace, forgiveness, and the redemption of all things are true…. Everything is going to be ok.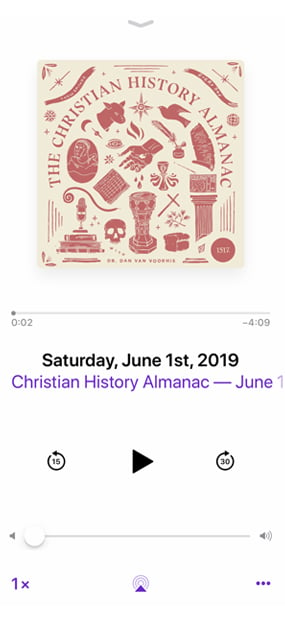 Subscribe to the Christian History Almanac

Subscribe (it's free!) in your favorite podcast app.
Apple Podcast