Tuesday, March 2, 2021
The year was 1861. We remember the birthday of Lucy Whitehead McGill Waterbury Peabody. The reading is from Isaac Watts.
It is the 2nd of March 2021. Welcome to the Christian History Almanac brought to you by 1517 at 1517.org. I'm Dan van Voorhis.
The year was 1861.
The origins of modern American Evangelicalism aren't primarily found in the American pilgrims' and Puritans' thoughts and practices. The religious thought of the Founding Fathers bears little to no resemblance to modern Evangelicalism. Modern Evangelicalism shares some traits with the First Great Awakening but many more with the Second Great Awakening.
The foundations of your local evangelical or non-denominational church were primarily set in postbellum America. Let's link together Post-Civil War America and the Evangelical church at the end of the 1800s and the beginning of the 1900s.
The Civil War was over, and the Reconstruction of the South was a colossal failure. The new Jim Crow south led to many free men and women migrating to the North and West. With increased speed, travel became increasingly popular and prevalent amongst diplomats and heads of state and a new class of travelers and, of course, the missionary. And then, of course, whatever unity came by churches reuniting after the civil war was dashed with the schisms amongst mainline Protestant denominations. This has colored so much of our understanding of this period.
And wouldn't you know it, today we remember a character in the history of the church, born on this day, whose extraordinary life intersected with all these major themes. There is also a good chance that this character has the longest name (longest commonly used name, perhaps) in the history of the Almanac. On the 2nd of March in 1861 that Lucy Whitehead McGill Waterbury Peabody was born. The LWMWP intersects with all the events and trends outlined above. Let's break her story down.
She was born in Kansas, on the Mississippi, in 1861. You might remember circa the Civil War, Kansas had a nickname (Bleeding Kansas), and so you might not be surprised that the family, the McGill family, moved to New York. Lucy received an education at the Rochester Academy, where she was the valedictorian of her class in 1878. In 1881 she married the Reverend Norman Waterbury. Waterbury told Lucy of his desire to become a missionary to India. This was not what she expected, but she traveled to India with him and their young family. In 1886 Norman died in India, and Lucy Whitehead McGill Waterbury moved home. In the 1890s, she began her work with Baptist mission societies that would mark the rest of her very long career. Along with Helen Barrett Montgomery, she started the tradition of putting aside one day a year to pray for foreign missions. This would evolve into what is today the "National Day of Prayer."
From 1902 Lucy would be the chair of the Central Committee for the United Study of Foreign Missions. This was a position she would hold for almost three decades. In 1906 she married again, this time to the wealthy exporter and famous Baptist Henry W. Peabody. He died within two years of their wedding, and with the windfall from his estate, Lucy Whitehead McGill Waterbury Peabody would never have to work a day in her life again. But she did. She was the VP of the Women's American Baptist Foreign Missionary Society and helped unite it and others like it into an ecumenical federation of women's missions' boards. She would help found seven schools for girls in the far east and travel extensively to assist other missionaries. But, here, LWMWP differed from her conservative compatriots in pushing for more ecumenicism. She also differed from her more Progressive pals in that she was a firm opponent of theological modernism. Falling between two stools, many historians have treated her as a significant figure but something of a fish out of water.
Her later years were spent fighting to keep prohibition the law of the land and establish police forces in the big cities some saw as increasingly rowdy. She was very much a product of her time. This woman of many names and talents helped establish schools and the means for mission work worldwide, mainly with poor and oppressed women and girls. Lucy Whitehead McGill Waterbury Peabody died in 1949. Born on the 2nd of March in 1861, she was 87 years old.
The reading for today comes from Isaac Watts. These are two stunning stanzas from his hymn "When I Survey the Wondrous Cross."
See, from his head, his hands, his feet,
sorrow and love flow mingled down.
Did e'er such love and sorrow meet,
or thorns compose so rich a crown?


Were the whole realm of nature mine,
that were a present far too small.
Love so amazing, so divine,
demands my soul, my life, my all.


This has been the Christian History Almanac for the 2nd of March 2021 brought to you by 1517 at 1517.org. The show is produced by Christopher John Jacob Jingleheimer Smith Gillespie. The show is written and read by Dan van Voorhis. You can catch us here every day and remember that the rumors of grace, forgiveness, and the redemption of all things are true. Everything is going to be ok.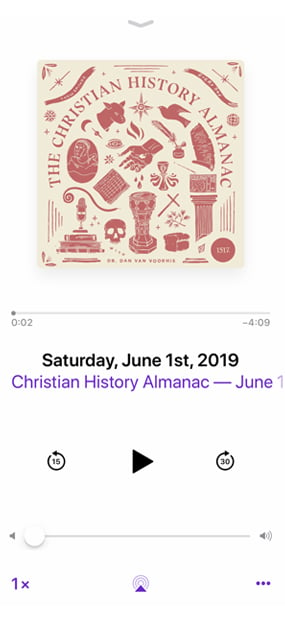 Subscribe to the Christian History Almanac

Subscribe (it's free!) in your favorite podcast app.
Apple Podcast