Wednesday, February 24, 2021
The year was 1915. We remember former slave and evangelist Amanda Berry Smith. The reading is "The Ballad of Mary's Son" by Langston Hughes.
It is the 24th of February 2021. Welcome to the Christian History Almanac brought to you by 1517 at 1517.org. I'm Dan van Voorhis.

The year was 1915.
As we near the end of February, Black History Month in America, I'd like to make a recommendation, something I don't usually do but this ties into our remembrance for today. PBS has just released "The Black Church," a documentary hosted by Henry Louis Gates Jr. Maybe I'm biased in finding church history fascinating, but this is a well-produced and well-told story.
As a historian of the American church, I have often failed to make the crucial distinction that I tend to write about "the white church." It is lousy that America has parallel church traditions and histories. We don't want to cover up the sometimes-profound differences between traditions, and we hope to lift examples of the good, bad, sacred, profane, etc., instead, as we tell all the stories we can from every nation and tribe.
So, today we remember a giant in the African American church, a woman of whom it was said "she was the greatest woman our race ever produced" and that she was "God's image carved in Ebony."
Amanda Berry Smith was born in 1837 as a slave in Maryland. Her father earned the trust of their master enough to be allowed to make money off the plantation overnight. He was able to make enough to eventually buy the family's freedom and relocate to Philadelphia. Amanda was married for the first time in 1854. It was an unhappy marriage that ended when her husband was killed fighting as a soldier during the civil war. Smith married again but in 1869 was once again made a widow.
This was the same year that she began to preach in association with the African Methodist Episcopal church. Not allowing women to preach was not just the domain of the white church, but Smith fell back on the AME office of the exhorter to defend her evangelistic work. She gained a following on the itinerant scene but found her calling as an international evangelist. In 1878 she embarked on a speaking tour to London. Her popularity was such that she did not come back to America for 12 years. She taught and spoke across the UK, lived and worked in India, and spent almost eight years in Western Africa.
A recent article noted that Amanda Berry Smith "sang, prayed and preached her way into and through private estates of English aristocrats, large theatres in Calcutta, and the saloons of transatlantic ocean liners." This was part of her genius. As a preacher or evangelist, a black woman might not get the time of day. But Smith used the "novelty" of her theatrical skills to sacralize her time on stage slowly. From minstrel songs to Gospel songs to an exhortation, the "show" became a kind of communal worship.
Her success was also based on her ability to cover her transgressions against the social order to claim that her disobedience to culture is actually obedience to God. Her 1893 Autobiography, "The Story of the Lord's Dealing with Mrs. Amanda Smith, the Colored Evangelist," has remained an essential book for scholars of the era and black women's history in particular.
In 1899, back home in the States, she founded "the Amanda Smith Orphanage and Industrial Home for Abandoned and Destitute Colored Children." In 1912 she moved to Florida on account of her failing health. It was three years later, in 1915, on the 24th of February, that Amanda Berry Smith passed into glory. Born in 1837, she was 78 years old.
The reading for today is "The Ballad of Mary's Son" by Langston Hughes.
It was in the Spring
The Passover had come.
There was feasting in the streets and joy. But an awful thing
Happened in the Spring –
Men who knew not what they did Killed Mary's Boy.
He was Mary's Son,
And the Son of God was He –
Sent to bring the whole world joy.
There were some who could not hear, And some were filled with fear –
So they built a cross
For Mary's Boy.


This has been the Christian History Almanac for the 24th of February 2021 brought to you by 1517 at 1517.org. The show is produced by the McNeil to my Lehrer, Christopher Gillespie. The show is written and read by Dan van Voorhis. You can catch us here every day. And remember that the rumors of grace, forgiveness, and the redemption of all things are true. Everything is going to be ok.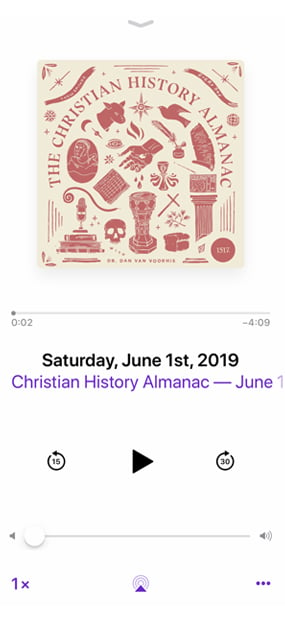 Subscribe to the Christian History Almanac

Subscribe (it's free!) in your favorite podcast app.
Apple Podcast