Friday, December 11, 2020
The year was 1825. We remember Samuel Ajayi Crowther. The reading is "Wartime Christmas" by American poet Joyce Kilmer.
It is the 11th of December 2020. Welcome to the Christian History Almanac brought to you by 1517 at 1517.org. I'm Dan van Voorhis.
The year was 1825.
On yesterday's show, we told the story of an Anglican clergyman who may have been a pirate. Today, by sheer unplanned coincidence, we start with a pirate and end with an Anglican clergyman. If it happens again tomorrow, I may have to write the next great monograph on pirates and Anglicans. Stay tuned.
1825 was a big year in new anti-piracy measures and tactics. The golden age of piracy was passed, but Corsairs and Raiders still terrorized peaceful seafarers. New Navies in England, Spain, and America would attempt to thwart the African slave trade, and other activities deemed deleterious to commerce. The "Last of the West Indian Pirates," Roberto Cofresi, had long frustrated authorities in the Atlantic with his fast six-gun sloop, the Ana. With increased sea travel and trade, various governments, including the Spanish and Americans, would set a trap for the man they called "El Pirata Cofresi." Drawn into battle in the Caribbean, Cofresi's ship was pinned in, and the pirates fled the ship onto land. They were caught, tried, and killed. Perhaps the last of the swashbucklers, Cofresi, holds a reputation in his native Puerto Rico as a patriotic hero.
But piracy was not just about gold doubloons or the search for one-eyed Willie's treasure. Piracy off the West Coast of Africa made the slave trade that much more difficult to stop. Seeing people as their most valuable commodity, many Africans would kidnap other Africans to sell them into slavery. One notable story of kidnapping and piracy surrounded a man once known as Ajayi. Ajayi was born in Yorubaland (modern Nigeria) in 1807, ironically, the same year that the British abolished slavery. Ajayi was taken prisoner by the Fulani tribe, a then militant Muslim group from West Africa. Ajayi would be sold six times before eventually making his way to a Portuguese slave ship bound for America. Ajayi was going to be sold as a domestic slave in America, but a British anti-slavery patrol ship intervened, and the slaves were sent to Sierra Leone and freed.
In Freeport, Sierra Leone, Ajayi would come across workers from the Anglican Church Missionary Society. Among these missionaries in Sierra Leone, on the 11th of December in 1825, Ajayi was baptized and named Samuel Ajayi Crowther, after a prominent member of the Missionary Society. Ajayi was sent to England, where he learned English, Latin, and Greek. At that time, the Anglican Church Missionary Society thought it would be best for Ajayi to go back to Africa to serve as a pastor to his native Yorubans and other Africans. Ajayi was consecrated as the first Bishop of Africa at the Canterbury Cathedral in 1864. Ajayi, or Crowther as he was referred to by many, would also famously translate the Bible into his native tongue of Yoruba.
Ajayi would work not only with the church but also with the British Society for the Extinction of the Slave Trade. Ajayi's fame came from a journal he kept on a trip up the Niger for evangelization and breaking up the slave trade. Ajayi worked with British authorities and urged them to open schools to educate Africans to raise their own leaders. While this happened in some places, too often, Western missionaries' goal was to Christianize and civilize, except that the boundary between the two could be non-existent. Furthermore, many of these new explorers did not need the guise of church work to travel into Africa. Profit alone could now justify colonization.
In the 1700s, the African church was only an enclave in Ethiopia. By the mid-1800s, Christians could be found all over Africa. But sometimes as part of a plan with an ulterior motive. By the 1900s, the African church was becoming Africanized, mainly by men and women who first read the Bible in their language, thanks to Ajayi. Many in the African church today recognize Ajayi as the father of modern African Christianity. Today, we remember his baptism as a recently freed slave on the 11th of December in 1825.
The reading for today is a poem entitled "Wartime Christmas." American poet Joyce Kilmer wrote the poem. Kilmer wrote this before he became a soldier in World War One, the same war that would take his life.
Led by a star, a golden star,
The youngest star, an olden star,
Here the kings and the shepherds are,
A kneeling on the ground.
What did they come to the inn to see?
God in the Highest, and this is He,
A baby asleep on His mother's knee
And with her kisses crowned.
Now is the earth a dreary place,
A troubled place, a weary place.
Peace has hidden her lovely face
And turned in tears away.
Yet the sun, through the war-cloud, sees
Babies asleep on their mother's knees.
While there are love and home—and these—
There shall be Christmas Day.
This has been the Christian History Almanac for the 11th of December 2020 brought to you by 1517 at 1517.org. The show is produced by Christopher "Slick Shoes" Gillespie, a man who refuses to learn the truffle shuffle. The show is written and read by Dan van Voorhis. You can catch us here every day. Remember that the rumors of grace, forgiveness, and the redemption of all things are true…. Everything is going to be ok.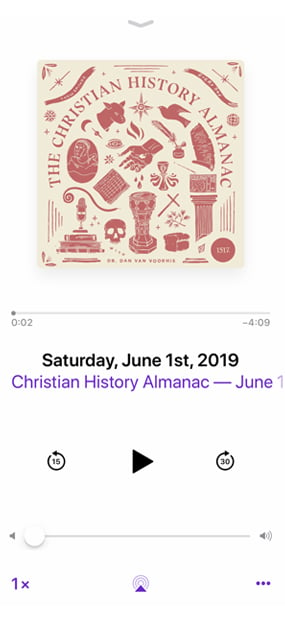 Subscribe to the Christian History Almanac

Subscribe (it's free!) in your favorite podcast app.
Apple Podcast