Friday, July 29, 2022
Today on the Almanac: The legacy of Wilberforce.
*** This is a rough transcript of today's show ***
It is the 29th of July. Welcome to the Christian History Almanac, brought to you by 1517 at 1517.org. I'm Adam Francisco in for Dan van Voorhis.
Today on Christian History Almanac, we look at the legacy of William Wilberforce, who died on this day in 1833.
Wilberforce was a quintessential British man. He was born in the north of England in Yorkshire, went down to Cambridge for university, and soon thereafter became a member of Parliament at age 21, serving from 1780 until 1825. In 1784, he was converted from what might be described as an aloof religious disposition to a thorough and robust evangelicalism. It was also at about this time that his opposition to slavery became the focus of his life's work.
He announced the House of Commons in 1789:
When I consider the magnitude of the subject which I am to bring before the House—a subject in which the interests, not of this country, nor of Europe alone, but of the whole world, and of posterity, are involved: and when I think, at the same time, on the weakness of the advocate who has undertaken this great cause—when these reflections press upon my mind, it is impossible for me not to feel both terrified and concerned at my own inadequacy to such a task. But when I reflect, however, on the encouragement which I have had…I take courage—I determine to forget all my other fears, and I march forward with a firmer step in the full assurance that my cause will bear me out, and that I shall be able to justify upon the clearest principles, every resolution in my hand, the avowed end of which is, the total abolition of the slave trade.
He was instrumental in getting the Slave Trade Act of 1807 passed, which prohibited the slave trade. But it still allowed for the practice of slavery. Though a compromise, many abolitionists believe the Act would be enough to, over time, bring an end to slavery. Not Wilberforce. He continued to press for its complete prohibition. He worked and worked for it even into retirement. Finally, in 1833, the Slavery Abolition Act was passed on July 22 and received Royal Assent on the 28th, one day before the death of William Wilberforce
A reading from Ephesians 4.
17 Now this I say and testify in the Lord, that you must no longer walk as the Gentiles do, in the futility of their minds. 18 They are darkened in their understanding, alienated from the life of God because of the ignorance that is in them, due to their hardness of heart. 19 They have become callous and have given themselves up to sensuality, greedy to practice every kind of impurity. 20 But that is not the way you learned Christ!— 21 assuming that you have heard about him and were taught in him, as the truth is in Jesus, 22 to put off your old self,[a] which belongs to your former manner of life and is corrupt through deceitful desires, 23 and to be renewed in the spirit of your minds, 24 and to put on the new self, created after the likeness of God in true righteousness and holiness.
This has been the Christian History Almanac for the 29th of July brought to you by 1517 at 1517.org.
The show is produced by Christopher Gillespie and written by Adam Francisco.
You can catch us here every day. And remember that the rumors of grace, forgiveness, and the redemption of all things are true. In the end, everything is going to be ok.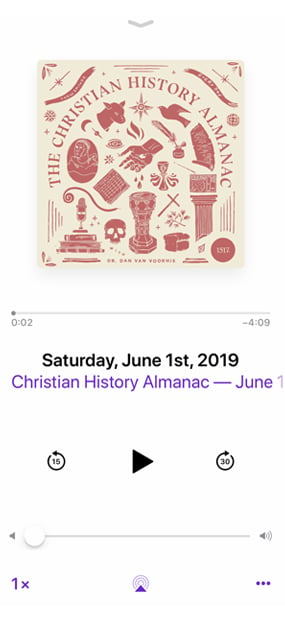 Subscribe to the Christian History Almanac

Subscribe (it's free!) in your favorite podcast app.
Apple Podcast